Best of pop/rock/jazz/folk 2018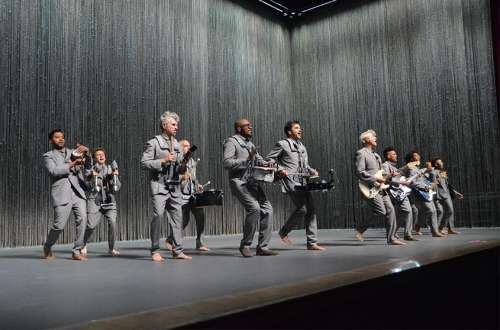 PHOTOGRAPHER: MICHAEL HOCHANADEL/FOR THE DAILY GAZETTE
By Gazette Arts Staff
Gazette music columnist Michael Hochanadel and reviewers Kirsten Ferguson and David Singer saw a wide range of shows in 2018.
Hochanadel's favorite four:
Terrance Simien at the Cohoes Music Hall on May 12.
Joyous Louisiana party sounds; in full carnival glee, the singer-accordionist tossed miles of Mardi Gras beads into the dancing crowd. Horns gave Creole two-steps, waltzes and "Jolie Blon" (the Cajun "national anthem"), a bold brassy zap and powered uptempo tunes over the moon into fleet-footed jazz.
Gabacho Maroc at Music Haven on July 8.
The Moroccan combo reached around the world with instruments, melodies, beats and words, and toward opener Heard in transcontinental fellowship. After separate sets, they joined in a free improvisation without barriers, net or map; thinking their way to a fresh and fine new thing. As international as music gets, it was unforgettable fire, fierce and fun.
David Byrne at the Palace on Sept. 9.
Byrne called for a better America in a compelling theater piece, music pumping principle and overpowering funk. He and 11 players and singers roamed an open stage with precise but relaxed-looking choreography, booming big, percussion-heavy riffs; some new, some Talking Heads-familiar. Openers tUnE-YarDs displayed similar strengths of message and medium.
Richard Thompson Electric Trio at The Egg on Nov. 17.
Bravely opening and closing with new songs, Thompson strutted through intricate stop-and-go runs and soared in mellow melodic modes. In good voice, great mood and dazzling guitar fettle, Thompson tore through riff wonderlands into the deep strange. As each phrase echoed, he replaced it instantly with the next shiny car in a train of inspiration. Openers the Sisters of Slide (Rory Block and Cindy Cashdollar) made vintage blues in virtuoso assurance.
Atop Ferguson's list were:
Metallica at the TU Center on Oct. 29.
Despite going on nearly 40 years as a band, they looked like a lean, professional, well-honed and highly produced machine as they showcased career-spanning tunes and selections from their well-received 2016 album"Hardwired... To Self-Destruct."
Ringo Starr at SPAC on Sept. 14.
He may not command the sheer electricity that his former Beatlemate Paul McCartney still does onstage, but with Ringo you always get Ringo. ... The two biggest moments were "Yellow Submarine" and the closer, "With a Little Help from My Friends," the latter song providing the one truly goose-bump moment when the magic of the Beatles tune fully came though onstage.
The Byrds with Marty Stuart and His Fabulous Superlatives at The Egg on Sept. 17.
For the 50th anniversary of their landmark country-rock hybrid album "Sweetheart of the Rodeo," Byrds founders Roger McGuinn and Chris Hillman teamed up with country legend Marty Stuart and his fantastic band to play "Sweetheart" in its entirety. They also paid tribute to their old friend Tom Petty and revisited the glory days of the Byrds during a show that was far more than a nostalgia trip: both masterful and truly life affirming.
Singer selected these standouts shows:
Phish at the TU Center on Oct. 17.
Phish opened its tour at the Times Union Center with a typically amazing show, the first set delivering pretty much everything you want from them, and the second set reaching higher. The show closed with a predictable but still epic "Harry Hood," clinching the show as one of their best in the region in years.
Neil Young at the Outlaw Music Festival at SPAC on Sept. 24.
At first Young played a nice row of his softer tunes, all of them great. These included the opener, "Tell Me Why," "Lotta Love," "Are You Ready for the Country," "Heart of Gold," and more. Wearing his signature flannel, his voice sounded the same as always, high-pitched and angelic.
... And then he strapped on the electric guitar, strummed the first chord to the epic "Powderfinger," and the place came alive. His solos were as fierce as ever, his body still contorting spastically while he rung out high notes with his whammy bar.
Sawyer Fredericks at Caffe Lena on May 26.
It's a mystery how such a young man can pull off such somber, honest, tones. More than pull off, he owns it, taking full control of his music, himself, and the audience. His range is small, but his sound and delivery is huge.
JAZZ
Hochanadel also took in many jazz shows this year. Apart from the multi-band extravaganzas – Freihofer's Saratoga Jazz Festival at SPAC on June 23 and 24 and the Albany Riverfront Jazz Festival at Jennings Landing on Sept. 8; both pretty terrific – his top three:
The Brad Mehldau Trio at The Egg on April 22
Evan Christopher and Eli Yamin at the Cock 'N Bull on Aug. 16
Mad Skillet at Cohoes Music Hall on Nov. 14
Honorable mentions: the monthly (first Tuesday) delight of Keith Pray's Big Soul Ensemble at the Van Dyck, and the locals-plus showcases at Jazz at the Spring.