Columnist Rachel Goodman's favorite concerts of 2018
Via Riff Magazine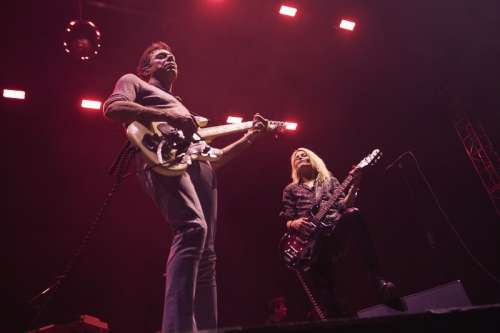 Photo: Chloe Catajan
By Rachel Goodman
It is rare that I am ever in a camp of "bigger is better" when it comes to concerts, but sometimes, I really am. And sometimes, everything really is bigger and better in Las Vegas. That's especially true when you see The Killers in their hometown. Here are my favorite concerts if the year, starting right at the top. (Hoe often is that the case? I'm not going to make you wait for the big payoff).
2: David Byrne at City National Civic in San Jose – Aug. 18
Always one to push the creative envelope, David Byrne did not disappoint. Byrne took the stage donning a gray suit reminiscent of the one he wore during the "Stop Making Sense" tour. The backing band members entered one at a time, like a marching band, playing their instruments.
As Byrne performed "Here," off his new album, American Utopia, he sang to a brain, in a silver-sequined stage. "Lazy," lead by the band's handclaps, showcased the barefoot troupe's capacity for percussion ensembles and big guitars riffs. "Everybody's Coming to My House" kept up the contagiously fun atmosphere with its singalong vibe.
From the opening chords of "This Must Be the Place" and "Burning Down the House," the classic Talking Heads energy took full effect.
While Byrne has remained very vocal about his political leanings, it was never more evident than during the encore as the artists and opener, Ibeyi, came out to perform Janelle Monae's "Hell You Talmbout," a protest and tribute to all the lives lost at the hands of police brutality. The performers read several names, following them up with "Say His Name!" Byrne has been updating it for every show, so sadly there were some Bay Area references. The night's excitement coincided with somber commentary, and no one strikes this balance better than David Byrne.
***