David Byrne Breaks Down Groundbreaking 'American Utopia' Tour In New Interview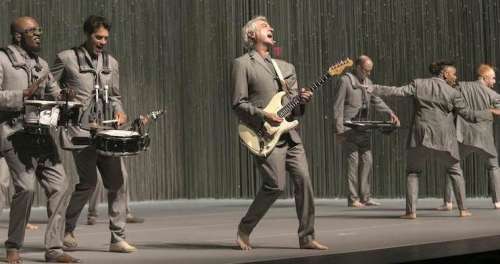 Photo: David Byrne Facebook
By Tom Shackleford
David Byrne spent much of his 2018 back on the road with a ground-breaking world tour themed around his latest solo album, American Utopia. The former Talking Heads singer wowed audiences and skeptical fans—including this one—with a show that broke all the rules of contemporary rock/pop performances and how well artists labeled under "classic rock" are supposed to move and sound in their twilight years. Byrne appeared and sounded ageless when he came to New York's Forest Hills Stadium this past September, even though his 144-date tour was in its latter half by then. Yet Byrne showed no signs of tour fatigue thanks to the looseness and non-traditional on-stage formatting of his show.
Byrne has since released a six-track EP titled The Best Live Show Of All Time, comprised of soundboard recordings during the tour. David Byrne recently spoke about the tour in a new interview with NME, whose review of his American Utopia tour was the inspiration for the live EP's title. In the interview, he discusses his audience's initial reactions, as well as what he feels this album cycle's lasting legacy will be. Here are five unique takeaways from the honest new interview.
1. Fans Were Slow To Pick Up On The Tour Theme At First
The most noticeable part of Byrne's American Utopia tour wasn't necessarily the music, but rather the unique stage setup. Byrne and his band removed any on-stage equipment and stationary instruments for an open, mobile-friendly arrangement. Experiencing a concert on a completely bare stage took some time for audiences to grasp at first.
"Would an audience like the results? Impossible to predict," Byrne said about his fans' uncertain reception to his new show format. "When we started touring the show I could sense that audiences were trying to figure out by the second or third number, 'Is this what it is? Do I like it?' By the fourth number it seemed they'd decided they did like it, as well as being pleased at an artist respecting them enough to offer them something entirely new."
2. Finding A Balance Between Order And Improvisation Was Key
The performance with Byrne and his band featured constant movement. Some of it seemed erratic and unplanned, while other moments of the show were carefully and impressively choreographed.
The relaxed fluidity of the band members' personal and group movements allowed the show to feel like it wasn't necessarily 100% planned out ahead of time, which is exactly the theme Byrne was going for with his production.
"I too have seen shows that were overly choreographed or staged and the humanity got drained out," Byrne mentioned of his love for planning versus spontaneity. "It's a balance then – never lose sight of the humanity and life, but use staging etc to actually bring out more levels and depth in the material. Lastly, the choreography we do is accessible – except for a few of us, the rest don't do anything an ordinary person couldn't do. That helps it be relatable I think."
3. David Byrne Has His Own Favorite Shows Of 2018
As 2018 drew to a close, many fans and media outlets took the end-of-year opportunity to look back and share their favorite concerts and performances of 2018. Byrne's tour found its way onto a number of those "Best of 2018" lists, but like any music fan, he had his own favorites to pick from, and they're much more relatable than one would imagine from a brilliant mind like Byrne's.
"I haven't seen as many as I usually would," David Byrne admitted when asked about the best shows he saw this year. "Performing doesn't give one too many nights off. I saw Janelle Monae in Austin: amazing. Young Fathers at a festival: great live show. My own performance joining Choir! Choir Choir!. Beyonce's video at Coachella."
4. He Called Janelle Monae To Ask About Performing "Hell You Talmbout"
Speaking of Janelle Monae, Byrne used one of her more emotionally-charged songs, "Hell You Talmbout", throughout his tour in hopes of sharing her message of social alertness. Byrne was asked about whether or not he had any concerns about performing the song aimed at unapologetically addressing police brutality, but for Monae, the subject never seemed to be out of bounds in terms of a white man relaying a message from black voices and communities.
"I wrote to Janelle asking the same thing. Her response was encouraging – she says the song is for everyone. Without her thumbs up I wouldn't have done it – and not sure I would have done it with a band less diverse than we are."
5. American Utopia Just Might Come To Broadway
With the financial and artistic success of Byrne's album and incredible tour performance, fans and media alike have speculated as to whether or not Byrne—a well-known New York City resident—will bring the show to the bright lights of Broadway. After all, fellow classic rock aritsts like Bruce Springsteen have earneda nice payday and some rest from not having to tour with their own theatrical productions. When Byrne was asked about the possibility of setting up an American Utopia residency in New York or London's West End, he hintingly replied, "We're looking into it."
[H/T NME]