David Byrne Reflects On Recent Trip To India's Chennai Music Festival In New Blog Post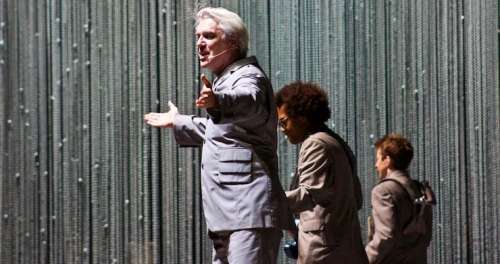 Photo: Tom Coyote
By Tom Shackleford
David Byrne had a pretty busy year in 2018, as the famous rock singer spent many months on tour in promotion of his acclaimed new studio album, American Utopia. Following the completion of the lengthy global tour in late-November, Byrne made his way over to India rather than settle down at home after just spending months on the road and on stages around the world. The reason for Byrne's India trip was about more than just trying some local curry recipes. The singer was there to check out the performances as part of the Chennai Music Festival, also known as Chennai Music Season, a 10-week marathon of concerts which take place throughout the city of Chennai in November-January.
"After about a year of being on my own music tour I decided to stay in motion," Byrne shared to start a lengthy travel post shared to his blog late last week. He continued in sharing his views on how music events in India differ from festivals and music events in the West by writing:
"I didn't manage to do 12 hours of music every day, but I did my best; one nice thing about performance in Asia is that audience members often come and go during the shows. They don't chat, but there is an ebb and flow. Some shows were MUCH more popular than others. I could never figure out why, but then I am not an expert on this kind of music. I'd decide what to go to by looking at programs in the newspaper or an online newspaper and then I'd pick out some shows that seemed interesting to me. I wanted to see and hear the traditional performers, but I noticed there were quite a few in which performers were playing carnatic music on unexpected instruments."
Byrne goes on to mention how he went from venue to venue throughout the festival by way of "Uber cars or auto rickshaws," after the transit routes became too busy to travel by bicycle. Byrne continued in explaining the strict formats of the musical performances:
"The raga (scale), rhythm and mode are all predetermined, as well as the structure, but within those formats there is much improvisation. Some of the playing and singing is virtuosic and some have an aim to use their skills to add to the emotional poignancy of the melody. Most of the groups were made up of almost identical lineups: a tambora or two to provide the drone, often a violin or other melodic instrument to provide counter melodies to the vocalist or solist and some drums—most often a double headed mridangam drum and sometimes also a tabla player."
Fans and global music lovers can read more on Byrne's entire journey via the blog post on his website. Fans can also scroll down to check out some of Byrne's photos captured during the trip which were included in his travel blog.
In the weeks following the completion of his 2018 tour, Byrne released a live album of recordings of select performances from the concert run. American Utopia is also in the running for "Best Alternative Music Album" at the upcoming 2019 Grammy Awards.