David Byrne Releases New Live EP, 'The Best Live Show Of All Time' [Listen]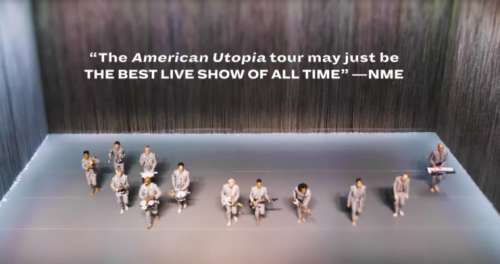 By Andrew O'Brien
David Byrne reads the reviews outlets write about his shows. He must have read at least one, anyway, as he just released a new live EP whose title is borrowed from a line in an NME write-up of his American Utopia tour: The Best Live Show Of All Time.
The tour, which takes its name from the title of Byrne's recently Grammy-nominated new album, has circled the globe all year, garnering unanimously glowing reviews every step of the way. From the start, David Byrne has also thought highly of his latest spectacle, describing his American Utopia tour as "the most ambitious show [he's] done since the shows that were filmed for Stop Making Sense" (see photos here).
You can purchase the new EP via Nonesuch here. The new live EP is also available to stream as bonus content on Byrne's newly released deluxe edition of American Utopia, and features live cuts from his September stop at Brooklyn, NY's Kings Theatre. Below, you can check out the EP's announcement video and listen to the new live tracks as part of the American Utopia deluxe edition on Spotify.
David Byrne – American Utopia (Deluxe Edition) – Full Album