David Byrne's unveils new live EP titled …The Best Live Show of All Time
Via hhhhappy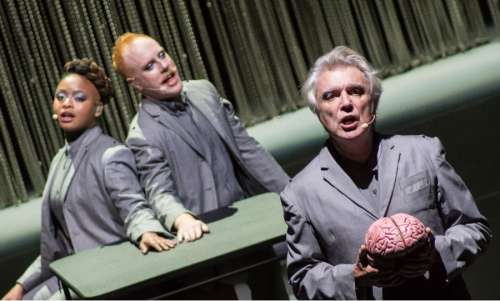 By Joanna Panagopoulos
David Byrne's new EP has a humble title, …The Best Live Show of All Time, named after a review from the music website NME.
It features six live performances recorded at Brooklyn's Kings Theatre during his American Utopia tour, including Everybody's Coming to My House, Every Day is a Miracle, and A Dog's Mind, as well as The Talking Heads' This May Be The Place, I Zimbra and Toe Jam.
The tour album American Utopia was Grammy Award-nominated after its release in March 2018. He performed 144 tour dates over ten months, which is pretty crazy for a 66 year old.
Byrne called the tour, "the most ambitious show I've done since the shows that were filmed for Stop Making Sense" and perhaps this is reason he isn't shy to take that EP title.
Known for pushing back on the should-be markings of a legacy artist, he creates shows that are new and innovative.
American Utopia is also available over all streaming services.
Via Pitchfork.