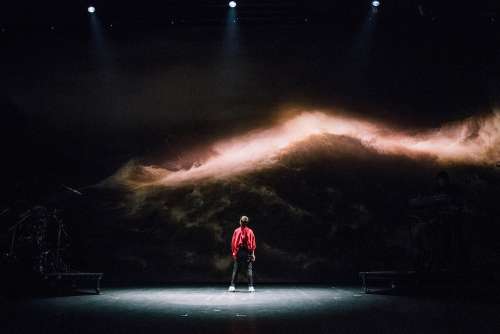 By Danny Wright
David Byrne has just released a new live EP from his American Utopia tour. It goes by the modest and unassuming title of '…The Best Live Show Of All Time' (borrowed from a line in an NME review of the show). It's a title that suggests a certain level of knowing arrogance from art rock's renaissance man.
Yet if you saw the show you know that this wasn't idle hyperbole being thrown around. He was right. And if anything from the world of music in 2018 will stick with me, it's shows that have pushed forward the idea of what a show can be. It has been a year for inventive, ambitious and mind-spinning shows.
There were shows that demonstrated that gigs didn't have to be just turning up and playing your big songs, pretending to go off only to come back on to play one more song as silent London crowds silently judge you. It showed it could be thinking about performance, about narrative and weaving other elements into the show: theatre, dance, art.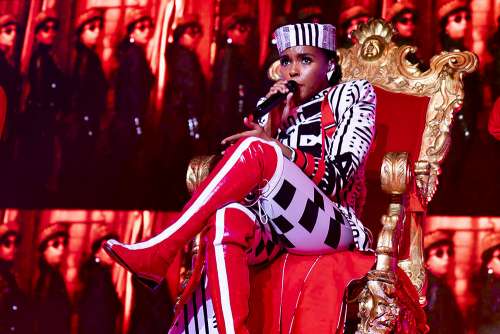 Janelle Monae by Chloe Newman
Take David Byrne, Christine and the Queens and Janelle Monáe. A triptych of shows that deconstructed the ideas of what a concert is and stuck it back together in odd and brilliant shapes. In fact these weren't just shows they were experiences (sorry for making you just be sick in your mouth, there), stretching the idea of what a performance is and what you expect from it. Big set piece shows have been the domain of pop acts – huge mechanical animals and giving out glow in the dark wristbands. But this was something different: something that took the intimate ideas of theatre and made them work on a large scale.
When Byrne stated that his world tour was "the most ambitious show I've done since the shows that were filmed for Stop Making Sense" he wasn't kidding. A brain sits on a unadorned table before the show starts. He lifts it, examines it. And if this makes you think this might be a show where the ideas get in the way of the actual music don't worry, this was a show that was as stuffed full of joy as it was full of ideas. Byrne has always been an artist pushing for things to be be done differently and this live show was another way creating a new perspective.
The musicians – playing live, without a backing track – are in constant motion on a bare stage. They carry their drums, their saxophones, their keyboards. That sense of movement runs through everything. Each moment is choreographed, and of course the music is celebratory and brilliant.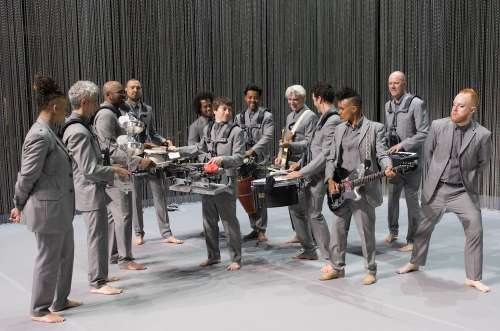 David Byrne by Donna Lewis
As it continues it's obvious a story is being told, one that you're trying to discern throughout the shifts and turns. That story concludes as he finishes with Janelle Monáe's "Hell You Talmbout", a rhythmic mantra with a powerful political message: a chanted listing of black Americans killed by police and vigilantes. It was just another reminder that this wasn't your average gig.
Just like Byrne, Janelle Monáe shares his ability to build a visual-musical-theoretical world with her music. And her show at the Roundhouse this year was a confident exploration of all the ideas that permeated Dirty Computer, her latest album. It's not only a celebration of difference and independence; of sexual liberation, feminism and individuality, but also a celebration of her unique talents – a party that we've all been invited to, where we can be whoever we want to be.
Original, individual and defiant, the show had political messages, dancing as well as six costume changes into new, increasingly futuristic uniforms. Like Byrne, words like 'enigma' are often used – the idea that she hides behind characters, is too clever – but the show she put on at the Roundhouse is her world: a joyful, euphoric soul-funk opera where she's at the centre of everything.
Towards the end of the year Christine and the Queens also held a party where she revealed her true self. Chris at the Hammersmith Apollo show – the same venue Byrne had transformed months earlier. "Chris is who I am now. A different person, I can run faster now," she tells the crowd. Shedding the rest of the stage name and cutting her hair seemed to give her the freedom to push her show even further.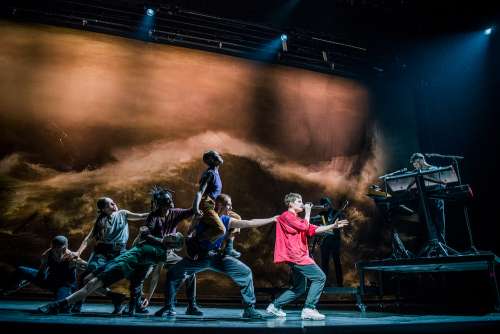 Christine & the Queens at Hammersmith Apollo by Gaelle Beri
At the start of the show she encourages the crowd to follow her lead "Feel free to experiment, feel free to dissolve, to change your mind." Héloïse Letissier's live, theatrical shows have always been strikingly original but tonight they freer than ever before. Every flourish and idea has had thought put into it. Oil painted canvases of mountains and waves are the backdrop. They fall one by one as chapters play out in the story, until the end when the whole backdrop falls away and it becomes a nightclub. A troupe of dances dressed in t-shirts and shorts follow her round the stage. And boy can she dance. Muscular but graceful moves, There is a brilliant slow motion fight scene and for Goya Soda artificial snow falls heavily on the ground through which the dancers dramatically slide. During 'The Walker' light pierces the space vertically; golden sand falls, piling up on top of the snow.
As it end she appears on the balcony to serenade the crowd with 'Saint Claude' and starts the final song 'Intranquillité' from the middle of the crowd. It's a human climax for a show that often seemed born in another world.
That seems like the connection that draws all of these shows together. For all the ideas, archness and drama, these are potent and mesmerising shows that have a message. Playful and potent, political and human. Full of ideas and full of joy.