Riemenschneider's top 10's: David Byrne headed up Twin Cities concerts in 2018
Via Star Tribune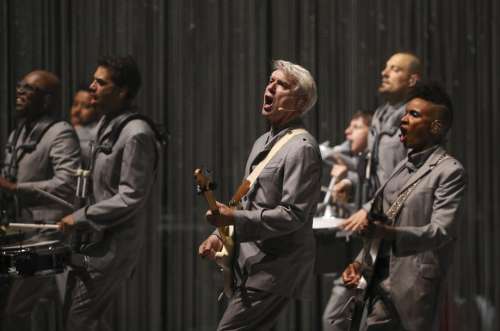 By Chris Riemenschneider
Some of the best concerts of 2018 wowed us as visual spectacles. Others weren't much to look at but stood out with their musical passion and energy. And still more earned high marks for artistic innovation and the thrill of originality.
Only one concert this year exceeded on all those fronts, though: David Byrne's American Utopia Tour stop at the State Theatre was like watching a high-­concept dance performance, tightly synchronized marching band and just really electrifying and funky rock concert all in one. The Talking Heads legend and his band never stopped moving.
A lot of this year's big hip-hop concerts offered similarly nonstop, dazzling displays — and that's not counting the mere presence of Beyoncé with Jay-Z at U.S. Bank Stadium — but it was a no-frills, all-in rapper throwdown by Wu-Tang Clan revisiting its "36 Chambers" album at Soundset that proved the most riveting (and almost fell apart behind the scenes!).
On record, women such as Janelle Monáe, Noname and the "Black Panther"-buoyed SZA ruled hip-hop in 2018, while a long beloved underground band having the time of its life, Superchunk, and the snarling, young British group Shame had the year's best rock albums.
Best concerts of 2018
1. David Byrne (May 17, Orpheum Theatre)
2. Wu-Tang Clan (May 27, Soundset Festival)
3. Taylor Swift (Aug. 31 and Sept. 1, U.S. Bank Stadium)
4. Eleganza! does "Exile on Main Street" (Dec. 15, 7th Street Entry)
5. Brandi Carlile (Nov. 30, State Theatre)
6. Caroline Rose (June 6, 7th St Entry)
7. Low Cut Connie (Nov. 1, First Avenue)
8. Slayer (May 24, the Armory)
9. Hurray for the Riff Raff and Waxahatchee (April 23, First Avenue)
10. Travis Scott (Dec. 8, Target Center)
Best albums of 2018
1. Superchunk, "What a Time to Be Alive"
2. Janelle Monáe, "Dirty Computer"
3. Shame, "Songs of Praise"
4. Caitlyn Smith, "Starfire"
5. Neko Case, "Hell-On"
6. Noname, "Room 25"
7. John Prine, "The Tree of Forgiveness"
8. Robyn, "Honey"
9. Kendrick Lamar, SZA et al., "Black Panther: The Album"
10. Leon Bridges, "Good Thing"
Read Chris Riemenschneider's roundup of Minnesota's best albums and musical moments at startribune.com/music.