True Stories Criterion Collection Blu-ray Review
Via Flix 66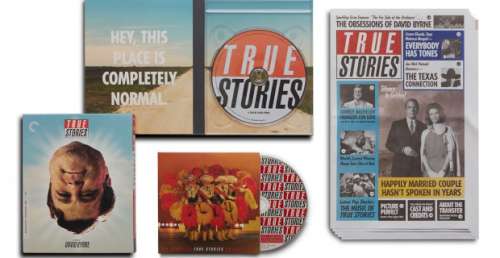 By Mathew Plale
Director: David Byrne
Starring: David Byrne, John Goodman, Spalding Gray

The Narrator appears awkwardly, in a black cowboy hat, before a projection screen of images of the past–those of America, those of Texas and those of Virgil, a small town in the Lone Star State that sits just past freeways and appears to have maintained a certain something that never translated fully to major cities.
The Narrator (David Byrne, most famous as being the lead singer of The Talking Heads; two years prior, Jonathan Demme's essential concert film STOP MAKING SENSE was released) notes how the year marks Texas' 150th anniversary, a cause for celebration sponsored by Varicorp, a tech company that represents all of the change occurring. In attendance will surely be all of the unique characters he meets throughout TRUE STORIES.
Directed by Byrne (who would, the next year, win an Oscar for scoring THE LAST EMPEROR…let that settle for a second), who co-wrote the screenplay with Stephen Tobolowsky and Pulitzer Prize winner Beth Henley, took its inspiration from tabloids, and himself described his sole directorial effort as "60 Minutes on acid." That seems fair. Consider: Louis Fyne (John Goodman, the Patsy Cline biopic SWEET DREAMS), who keeps looking for love in all the wrong places; the Culvers (Spalding Gray, who the next year would begin appearing in filmed versions of his monologues; Annie McEnroe, Sidney J. Furie's PURPLE HEARTS), a married couple who haven't spoken in years, making for awkward and lengthy dinners; or Miss Rollings (Swoosie Kurtz, WILDCATS), who has little interest in leaving her bed. There are peculiar fashion shows and women with tails and countless twins. It wouldn't have been out of place to see a ship of aliens land in the background.
Describing TRUE STORIES is a little challenging. It is partly a satire, partly a comedy, partly a musical, and at plays like the wildest mockumentary ever filmed. It is one of the most remarkably out-there movies of its kind–then again, maybe it is the only movie of its kind. Byrne waits for no viewer and, just as The Narrator does in one of the more comically askew moments, steers the wheel even though the viewer can't quite see how it works. At one point, his character, who is passing a house, asks, "Who do you think lives there?" He comes off interested in the answer, but that doesn't mean we have to be. What we have to be is acknowledging that one might be and that someone does indeed live there.
The audience for TRUE STORIES is most likely admirers of surreal cinema, fans of off-kilter comedies and, perhaps most obviously, fans of Talking Heads (the soundtrack would be adapted by the band that year; it featured classics like "Wild Wild Life" and "Radio Head"). Those outside of those categories will surely be turned off, just like so many are repulsed by supermarket tabloids. But somebody must be buying them, and if that's the case, then surely TRUE STORIES is worth a flip.
BLU-RAY REVIEW
Video: 1.85:1 in 1080p with MPEG-4 AVC codec. "This new digital transfer was created in 4K resolution on a Lasergraphics Director film scanner from the 35 mm original camera negative. Thousands of instances of dirt, debris, scratches, splices, and warps were manually removed using MTI Film's DRS, while Digital Vision's Phoenix was used for jitty, flicker, small dirt, grain, and noise management."
TRUE STORIES looks quite nice here, boasting strong details, lively colors (the brighter hues really pop) and an overall healthy image that lends to the movie's visuals and characters.
Audio: English 5.1 Surround DTS-HD Master Audio. "The new 5.1 surround track was created from 35 mm mono DME and 35 mm 3-track LCR M&E Magnetic tracks by the Criterion Collection and approved by David Byrne. Clicks, thumps, hiss, hum, and crackle were manually removed using Pro Tools HD and iZotope RX."
Dialogue is clean, while the music sequences have a nice clear sound.
Introduction (0:23): An archival intro from David Byrne.
The Making of True Stories (1:03:48): This new documentary offers a look at the production of TRUE STORIES, from conception to Texas-based production. Some of the contributors include Byrne, co-writer Stephen Tobolowsky, producer Karen Murphy, and more. This is an excellent and in-depth look at the making of the movie which will surely please fans.
Tibor Kalman (11:49): Graphic designer Kalman, who worked on some of the ad work and the opening montage of TRUE STORIES, is put under the spotlight.
Real Life (31:29): A 1985 documentary on the making of TRUE STORIES.
Deleted Scenes (14:18): Housed here are seven deleted scenes, which can be viewed separately or as a whole.
No Time to Look Back (11:46): Filmmakers Bill and Turner Ross revisit some of the film's locations three decades later.
Trailer
Also included with this Criterion Collection release: a CD containing the film's complete soundtrack, compiled here for the first time; essays by critic Rebecca Bengal, journalist and author Joe Nick Patoski, and Byrne; a 1986 piece by actor Spalding Gray on the film's production; and a selection of production photography, along with Byrne's tabloid clippings and writing about the film's visual motifs.