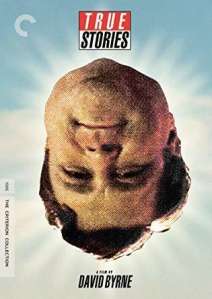 By Austin Trunick
In the lead-up to Virgil, Texas' big "Celebration of Specialness" – a festival planned by the town to celebrate their state's sesquicentennial – a stranger arrives dressed like Tom Mix. Like a documentary filmmaker with no camera, crew, or obvious subject matter in mind, the unnamed man gives us an intimate guided tour through Virgil, introducing us to its industry, nightlife, and most eccentric inhabitants. There's Louis Fyne, a gentle bear of a man and an amateur country-western singer, who wants nothing more than a wife; a wealthy bachelorette who hasn't left her bed in years; a woman whose grandly-spun tales would lead you to believe she was the most interesting person to have ever lived; a kindly voodoo practitioner and a paranoid preacher; a Latin singer with the uncanny ability to read people's tones; a beloved politician, and more. The events culminate in a massive talent show, where Virgilites assemble to show off their uncanniest tricks, from ventriloquism to competitive auctioneering.
Oh – and it's a musical.
Filmmaker Robert Altman would famously tell his actors that whenever they were on screen, they were the story's main character, no matter whether they were in a lead role or in a bit part. It was unsurprising to learn that David Byrne, the boundaries-pushing musician most famous for his work with Talking Heads, looked to Altman for inspiration when making True Stories, his lone feature directorial effort. (Byrne went so far as to consult with Nashville screenwriter Joan Tewkesbury, who supplied him with tips on how to carry a film with emotional through-lines.) Byrne and his collaborators were further influenced by real headlines found in the sensationalist supermarket rag Weekly World News – the setting of True Stories being an American town where all of those nutty articles are 100% true.
Though far too strange to have had any real shot at box office success, True Stories was destined from the beginning to become a cult film. It perfectly straddles an imaginary border between the work of Altman and that of David Lynch, in how it puts "normal," American every-day life under a magnifying glass to expose its weird wrinkles. Where Lynch (namely, in works like Twin Peaks and Blue Velvet) might choose to dig up the darkest corners of such a town, Byrne celebrates its weirdness as something wonderful. In spite of the sadness inherent in many of his characters – the terminally unlucky-in-love Louis, and the delusional "Lying Woman" in particular – Byrne films them with absolute warmth, embracing every quirk. True Stories is odd at every turn and from every angle, but it's never aggravating – rather, it's unexpectedly beautiful.
Byrne himself plays the film's narrator and guide, who leads us through Virgil delivering his lines in a peculiar, soft-spoken cadence. (He has a weirdly charming way of splitting the word "specialness" in two: "Special Ness.") A very young John Goodman in his first major film role is the movie's lovelorn bachelor, and monologist Spalding Gray is the town's admirable civic leader. Other larger roles go to Jo Harvey Allen, frequent Robert Rodriguez actor Tito Larriva, and gospel and R&B singer Pops Staples (cast wildly against character as the local voodoo practitioner.) Byrne surrounded himself with talent for his first (and to this point, only) endeavor as a filmmaker, allowing them to contribute ideas and shape their characters. The results are especially convincing as everyone truly inhabits their oddball roles.
Of course, the music will be the main attraction for any Talking Heads fan considering the film. The musical numbers are dreamily hypnotic whenever they occur within the film's unique world. "Wild Wild Life," of course, was the big hit from the film, its music video pulled from the scene where numerous Virgilites lip-synch to the Talking Heads track. Annie McEnroe sings the sweet "Dream Operator" over an appropriately dreamlike fashion show, and the esteemed Pops Staples lends his vocals the zydeco-tinged "Papa Legba." The insane, conspiracy-themed "Puzzlin' Evidence" manifests as gospel ranting, Goodman pours his heart into the earnest country love song "People Like Us," and the rambunctious "Hey Now" (our favorite) was performed by a local elementary school choir. (While "Love for Sale" earned some airplay for Talking Heads, here it feels like a music video inserted sideways into the movie – it's the only bit of the film's soundtrack that doesn't feel like it fully belongs.) A "True Stories" album was eventually released by Talking Heads, but it featured the songs re-recorded by the band, rather than in the original cast versions. That release was forced at the behest of the film's investors, and the intended, separate release of the film's original recordings never came to fruition – that is, until now.
Of all the bonus features to be found on Criterion's spectacular new edition of the film, the original soundtrack – 32 years late, but better than never – included on CD may be the most exciting. No offense to Talking Heads, but their True Stories record is among their lesser efforts: these are how the songs were meant to be performed, sung by the denizens of the fictional Virgil, Texas. The songs are mixed in with incidental music from the film and as some were trimmed in the film, it's delightful to hear them all in their complete form.
On the main disc you'll of course find the film itself, newly restored in 4K with 5.1 sound. There's also a brand new Making Of documentary created by Criterion featuring input from many of the primary figures, including Byrne, writer Stephen Tobolowsky, Jo Harvey Allen, and others, as well as a short feature exploring the shooting locations today. Perhaps our favorite bonus feature is Real Life, a vintage documentary shot on set in 1986, mostly following cast members such as Allen and Spalding Gray as they make conversation with locals (in character) while off-set – it's a testament to just how much these actors inhabited their roles. There are also features on designer Tibor Kalman and a large of assortment of deleted scenes. The Blu-ray's booklet comes folded like a tabloid paper, and includes an essay by Spalding Gray about the filmmaking process and the original Weekly World News clippings that inspired some of Byrne's characters.