For Freedoms!
by David Byrne | November 1, 2018
A nonpartisan project like For Freedoms is so important right now. With so many issues and forces driving us apart, here is something that might challenge us, while also allowing us to see what we have in common.
I am on a music tour and when I was in Oakland, I stopped by Creative Growth, as I often do when I'm there. If you're unfamiliar with this wonderful organization, you can read about how the studio works over at Reasons To Be Cheerful. It was mentioned that one of my favorite artists, William Scott, had labored long and hard on a piece that in his dreams would be a billboard. Needless to say, a light bulb switched on over my head and I wrote to ask if Hank Willis Thomas would approve of a collaboration… and as if in another world where these things actually come to pass—here we are.
William Scott's work imagines a more loving and equal world—in the Bay area where he lives and beyond. There are celebrities, dead and alive, in this world; there is humor and joy. But for me what is most inspiring is that we see ordinary people, like ourselves and others we know: there is a place for all of us. And to spread this unspoken, but strongly felt message in these billboards is perfect.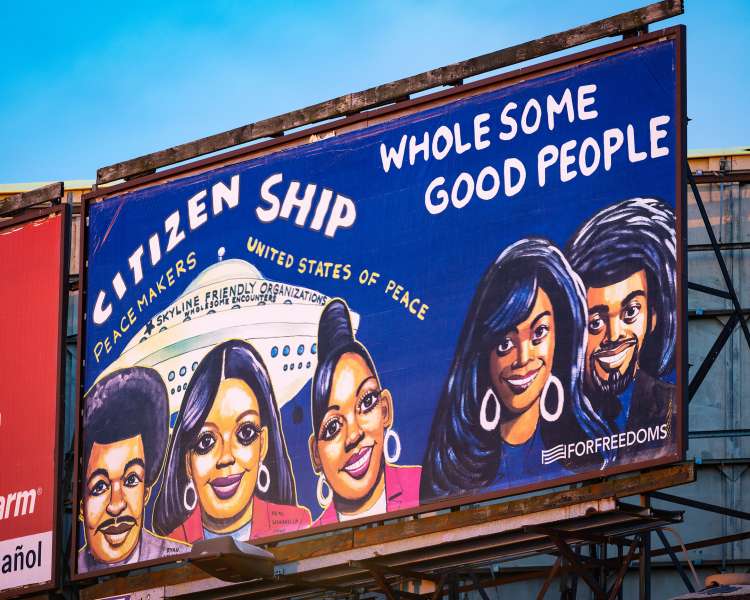 William Scott and David Byrne, Untitled, Bloomfield Ave & N 12th St, Newark, NJ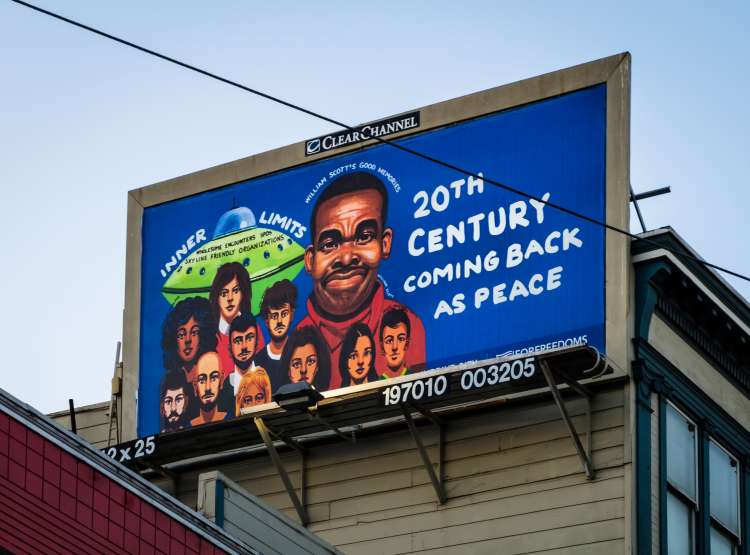 William Scott, Untitled, 3rd Street and 22nd Street, San Francisco, CA (In Collaboration With Imprint City)
Interview with William Scott
Can you tell us a little bit about your artwork?
My artwork is a beautiful the people inside the spaceship brings people back from the dead who lost their lives. We need a lot of people back. We need to bring a lot of people back. We need to bring the 20th century back as peace 'cause Wholesome Encounters will be bringing people's lives back who lost their lives. 'Cause we need Wholesome Encounters.
What is a Wholesome Encounter?
Wholesome is the name of the people who bring people's lives back from the dead who lost their lives. Because a lot of people lost their lives from gun violence, 'cause they need to cancel the gun violence. Cancel the bad people. To hire the Wholesome People. Wholesome creatures of Wholesome Encounters to bring people's lives back as peace. As the new earth of peace.
What is your billboard in Oakland, CA about?
We need Wholesome Encounters to bring people back from the dead who lost their lives, to be reborn. These are our Skyline People. These are Peacemakers. These are Wholesome Encounters of Peacemakers.
Pointing to his self-portrait "That's you, right?"
That's me, William Scott, the good memories.
What are the good memories about?
To see people inside my head. To see people's faces inside my head of my mind of my memory of my mind. To remember people. To keep that up. That's very important like that.
Who are these people in the Newark, NJ billboard?
These Wholesome people. These are couples. These are friends. Yeah, these are friends. Couples. Friend couples. But she's a Queen and she's a Peacemaker. She's a Queen Peacemaker. He's a King Peacemaker. The King Peacemaker. These are couples of the Queen and the King are Peacemakers to bring good people's lives back. Who lost their lives of killings with gun violence of the gang violence of these gun people.
How you might you fit into For Freedoms with your work?
I might fit in to be in freedom to be bring Martin Luther King back alive 'cause Martin Luther King was assassinated in 1968 and 'cause the people have been missing Martin Luther King for a long time. We need to bring Martin Luther King back. 'Cause MLK would not be assassinated again in 1968. He will be staying alive. He will be staying alive longer. He would not be assassinated again in 1968. 20th century is coming back as peace with no assassinated, no war. There's not going to be no more war in the 1960's in another life.
What is a song that relates to your billboard? This can be a song that inspires you or your work, or even a song that you hope that people would be listening to as they pass by your billboard.
Beautiful Peace on Earth, written and performed by William Scott.