7 Films To Catch At This Year's Oak Cliff Film Festival
Via Dallas Magazine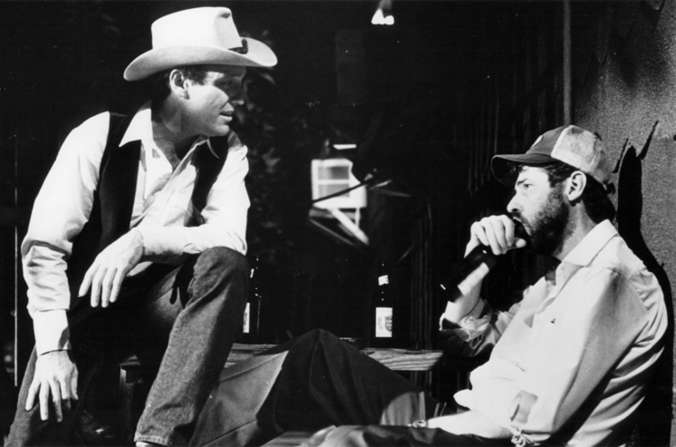 By Peter Simek
The Oak Cliff Film Festival, once the little cinema-loving, upstart on Dallas' festival scene, turns a mature five-years-old this year. Five years in, we know more or less what to expect from the festival, namely, a jam-packed weekend of unapologetic, high-quality film programming.
There is no pandering in the OCFF's lineup, just a well-considered list of films. I often think you'd be hard pressed to find a better programmed film festival of its size in the country. Culling from Texas filmmakers, eccentric outliers, experimental and avant-garde cinema, cult and genre classics, and some of the best new little films on the festival circuit, this year's festival takes as its thematic departure point the American New Wave of the 1970s. Terrence Malick's Badlands, a ruminating, Bonnie and Clyde-ish tale of romantic desperadoes, represents its class. However, the other repertory films from the 1970s at this year's fest, as well as many of the films in the program, are not by the typical names you associate with American moviemaking in the 1970s, though they are certainly indebted to them.
Dallas' own David Lowery, who is set to release his Disney-produced remake of Pete's Dragon this August, presents the 1978 Disney film Flight of the Navigator. On Friday, Brian De Palma's Phantom of Paradise will be screened for the first time at the downtown Majestic Theatre, the theater where many of the film's scenes were shot. (The screening makes a nice pairing with the new documentary about De Palma that is screening at the fest.) A particular treat, the opening night film, Last Night at the Alamo, is a lost classic, screened at the Sundance and USA Film Festivals when it was completed in 1983, but lost thanks to a sour VHS distribution deal. Recently restored by South by Southwest, Last Night at the Alamo is a classic independent film from Texas filmmaker Eagle Pennell that deserves a spot on the shelf near the work of John Cassavetes and Robert Altman.
Outside of those highlights, there are plenty of films to catch at this year's festival. Here is the full program, and below you'll find seven of our OCFF picks:
Contemporary Color (Friday, June 17 at 9 p.m. — Texas Theatre)
Two of the brightest young documentarians, Turner and Bill Ross (River, Tchoupitoulas) find their latest not in ethereal wanderings of a mysterious American landscape, but in the eccentric antics of a cultural icon. In 2015, David Byrne staged an event at the Barclays Center in Brooklyn that celebrated the art of color guard, raising the choreographed, flag-waving antics typically reserved for high school football halftime shows to a whole new level, replete with guest performances by St. Vincent, Ira Glass, and others. — Peter Simek
Sex and Broadcasting (Sunday, June 19 at 3:30 p.m. — Kessler Theater)
WFMU is the nation's longest running free form community radio station, a bastion of experimentation, avant-garde music, and cultural eccentricity. In Tim Smith's documentary, which features cameos from everyone from Sonic Youth's Lee Ranaldo to The Simpsons creator Matt Groening, we follow along Station Manager Ken Freedman and crew as they work against daunting financial odds to keep the station from going under. — Peter Simek
The Illinois Parables (Saturday, June 18 at 6:30 p.m. — Basement Gallery)
Taking its narrative form through the telling of seven parables each set in Illinois, this experimental documentary tells a story of America, politics, and human and physical landscapes, viewing the nation's fifth most populous state as a microcosm for the U.S. and asking questions about history and authorship. — Peter Simek
Thoughts That We Once Had (Saturday, June 18 at 12:30 p.m. — Texas Theatre)
The latest filmic essay by film theorist Thom Anderson (Los Angeles Plays Itself) offers a ruminating history of the cinema — inspired, in part, by the philosophy of Gilles Deleuze — that travels personal and political terrain, from D.W. Griffith to Jean-Luc Goddard — Peter Simek
The Alchemist Cookbook (Sunday, June 19 at 3:30 p.m. — Texas Theatre)
This punk rock horror show about figurative alienation and literal demonic possession won plenty of praise at this year's SXSW. (Its supporters include Pete's Dragon director David Lowery, who is presenting a free screening of Flight of the Navigator in Bishop Arts on Saturday.) An isolated young man is living in a trailer in the woods, which is your first sign of trouble. He's dabbling in chemistry and speaking Latin phrases in an effort to strike it rich, your second sign that this won't end well. No. 3: He may be unintentionally enlisting the help of a hellish supernatural fiend. — Alex Macon
De Palma (Sunday, June 19 at 5:45 p.m. — Texas Theatre)
Brian De Palma fanboys Noah Baumbach (Frances Ha) and Jake Paltrow (The Young Ones) sit down for a candid interview with the divisive director, whose work embodies the "New Hollywood" revival the Oak Cliff Film Festival is claiming as its theme this year. De Palma's work in the 1970s and '80s cast him as something of a more perverted Spielberg — a director who packaged violent, sometimes shlocky stories in the guise of technically inventive tributes to Hitchcock and Hollywood's golden age. This documentary barrels through De Palma's filmography, covering the good (Blow Out, Carrie), the bad (Mission to Mars, The Black Dahlia), and the weird (Phantom of the Paradise, screening Friday at the Majestic.) Film geeks should enjoy hearing De Palma dissect his craft, particularly his famed use of split-screen and tracking shots. Fans will delight at a highlight reel of some of the director's most indelible moments, whether it's the wordless MOMA flirtation in Dressed To Kill or the massacre at the end of Scarface. And maybe De Palma will even convert a few unbelievers. — A.M.
Author: The JT Leroy Story (Saturday, June 18 at 3 p.m. — Texas Theatre)
This documentary unravels a literary catfishing that spiraled out of control, the stranger-than-fiction tale of JT Leroy — writer, publishing sensation, and complete fabrication. It's a less-you-know-before-the-film-the-better story, but rest assured it's a good one, with more head-scratching postmodern layers than a Thomas Pynchon novel. — A.M.