And You May Find Yourself Seeing David Byrne on Broadway!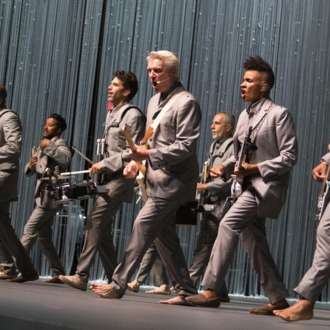 Photo: Getty Images/2018
By Devon Ivie
If you were too cheap to fork over some cash to see David Byrne's American Utopia tour, a.k.a. Stop Making Sense 2.0, last year, be prepared to fork over even more cash now: He's coming to Broadway, baby! Time! Isn't! After! Us! In what's being billed as a limited engagement from October 20–January 19, Byrne will be retooling American Utopia for the Broadway stage at the Hudson Theater. It's neither a play nor a musical, but rather a "special event" that will serve as an extension of his sonically jubilant tour.
"My friends would talk to me about the show, and often they said, 'David, there's a narrative in this — you never articulate it, but we get it by osmosis from the music and what we're seeing from the band and the choreography,'" Byrne told the New York Times. "I thought that was very encouraging, because what we do is more theatrical than the usual concert, and if we can bring that out a little more, it becomes something that really makes sense on Broadway." American Utopia was first released as an album by Byrne in early 2018 before he (and his dozens of untethered, virtuosic musicians) embarked on their international tour. This writer is personally listening to "Slippery People" on repeat in celebration.