'Contemporary Color' Follows David Byrne Down A Rabbit Hole
Via AP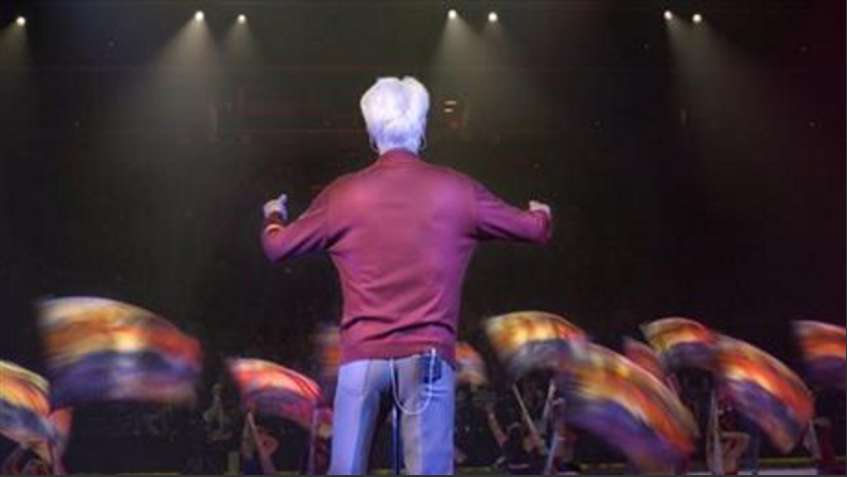 By Jake Coyle
NEW YORK (AP) — David Byrne's curiosity has taken him down some idiosyncratic rabbit holes. He has made art with PowerPoint. He has turned a Manhattan building into an instrument. But even he admits that his love of color guard — that flag-waving marriage of marching bands and choreographed dance — is among his most unlikely passions.
"This was one of the more unusual things," Byrne said, chuckling, in a recent interview. "But they keep coming. There's another project that has to do with neuroscience that has led me into some pretty strange places."
Byrne's interest in color guard, first piqued in 2008 when a team requested permission to use one of his songs for a routine, reached a surreal and spectacular culmination last summer when he staged a color guard extravaganza in four Brooklyn and Toronto arena concerts. Ten teen color guard teams from across North America were paired with a musical act; Saint Vincent, Ad-Rock, Nelly Furtado, Merill Garbus and others (including Byrne) composed original music for troupes that twirled on a platform below the stage.
"You can imagine the pitch," the former Talking Heads front man says of the production. "It got turned down a few times. There were some institutions that said no or just said, 'What?'"
For those who missed the sold-out shows or simply watched them come and go with bafflement, a concert film of the event, "Contemporary Color," has been crafted, adding another medium — film — to a technicolor stew of art forms that already brought together dance, music and rifle tossing. The film, directed by Turner and Bill Ross, premiered Thursday at the Tribeca Film Festival.
"Contemporary Color" isn't just a celebration of color guard — the so-called "sport of the arts" — but a rich panorama of performance and an ode to wholeheartedly pursuing artistic expression of any kind. A fleeting shot at the end of the film shows Byrne in full rapture as he waltzes down a backstage hall while a confused security guard looks on.
"The thing that really struck me when I first saw it on a DVD was that it was kind of this vernacular art form, an art form emerging across the country in these schools and communities," said Byrne. "And it's completely under the radar from what you might call the official art and culture and performance guardians."
The Ross brothers are acclaimed documentary filmmakers whose three previous films ("Western," ''Tchoupitoulas," ''45365") impressionistically depict close-knit American communities. They had never heard of color guard before Byrne approached them, but they were intrigued at the idea of putting their spin on the concert film — a genre of which Byrne ("Stop Making Sense") is a distinguished veteran.
"We went back to David with sort of a wild idea," said Turner Ross. "We said: We want to skew the normal narrative that we might take here and think about it more like 'The Muppet Show' where you can be in the audience and on stage and backstage."
They dove into color guard, attending regional competitions, spending time with young performers and composing interstitial videos that ran through the concert. The Ross brothers used 10 cameras to capture the full experience of the shows.
"Something that we just really weren't even aware of or would have consumed is now something we have great empathy for and great appreciation for," says Turner. Bill adds: "In the end, it's hopefully a film about performance and putting on a show."
For the 63-year-old Byrne, there's something beautifully inclusive about the strange combinations of color guard. "It takes in all the geeks and the gays and whatever body shape you are," he says. It has come a long way from its military origins of soldiers who were responsible for guarding a regimental flag, or colors. Byrne begins his performance in the film with the announcement, "Ladies and gentlemen, America has changed."
The Ross brothers, three decades younger than Byrne, marveled as the wide-ranging interests of color guard's unexpected champion.
"He's a person who very authentically is interested in everything. Not in some sort of ironic way, but keenly, truly fascinated," says Turner Ross. "He's the kind of guy when we would go on a road trip to see these kids, he would bring scientific papers for us to talk about."
Byrne has undoubtedly brought color guard to a wider audience. More impressive, though, is that he — one of the great rock 'n' roll pioneers — remains such a live antennae to new experiences.
What compels such restless, unceasing curiosity? He shrugs.
"Well, there's so much cool stuff out there," says Byrne. "My big regret is that I don't have time to engage with everything that interests me."