David Byrne Among Those Set to Rally Against Trump Cuts to Arts Funding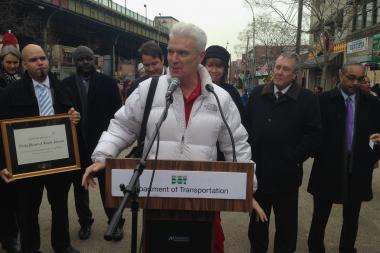 Musician David Byrne is expected to join a rally at City Hall on Monday against Trump's expected cuts to arts funding. (DNAinfo/Katie Honan)
Written by Jeanmarie Evelly
CITY HALL — Hundreds of residents, elected officials, cultural groups and artists — including Talking Heads frontman David Byrne — will rally in Manhattan Monday to protest President Donald Trump's proposal to gut federal funding for the arts and humanities.
The "Rally to Save the Arts" will kick off at noon in front of City Hall, where attendees will demand full funding for National Endowment for the Arts, National Endowment for the Humanities, Institute of Museum and Library Services and the Corporation for Public Broadcasting, all of which the president wants to eliminate.
The four entities provide grants and support to art programs and institutions across the country, and their demise would mean a significant financial loss to the city's museums, libraries and cultural groups big and small, according to Councilman Jimmy Van Bramer.
"These are organizations that are already stretched," said Van Bramer, who heads the City Council's Committee on Cultural Affairs and Libraries and is organizing Monday's rally along with Speaker Melissa Mark-Viverito.
"We have an obligation to speak up, fight back and push back on this opinion that somehow the arts aren't necessary, culture isn't important, and libraries don't matter," he said. "That's beyond stupid."
In addition to Byrne, attendees at the protest event are expected to include the heads of the city's three public library systems and a number of museums and cultural groups, as well as Broadway performers.
Participants are encouraged to bring signs that display their creativity.
"Right now there is an unprecedented assault on the arts," Van Bramer said. "We better damn sure take that seriously, and we've got to fight like our lives and our culture depends on it, because it does."