David Byrne Announces 'David Byrne's American Utopia' Broadway Show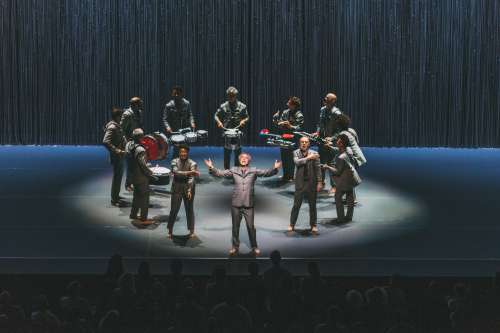 Photo: Catalina Kulczar
By Eric Renner Brown
David Byrne shared plans Friday for "David Byrne's American Utopia," a Broadway show that officially opens at the Hudson Theatre on October 20.
The show, which shares its name with Byrne's Grammy-nominated 2018 album American Utopia, will run through Jan. 19, 2020 and feature songs from the musician's Talking Heads and solo catalogs.
Prior to its official opening, a strictly limited engagement at the Hudson Theatre will kick off Oct. 4. And before the show heads to New York, Byrne will stage an engagement at Boston's Emerson Colonial Theatre from Sept. 11 to 28.
Tickets for "David Byrne's American Utopia" are on sale now.
According to Byrne, the production emerged directly from his high-concept 2018 tour, which grossed $22.2 million and secured a spot on Pollstar's Year End Top 100 Worldwide Tours chart.
"As I was recording the songs for my American Utopia album it occured to me that they would be exciting to play live – and I realized that a lot of my older material would fit right in," Byrne wrote in an essay about how the show came to fruition.
"Because of how theatrical the show is, others started telling me, 'This needs to go to Broadway,'" he continued. "Why not? But what did that mean? Parked in a beautiful Broadway theater we can perfect the sound, the lights, the movement. I thought to myself that this new context might be good – it might bring out the narrative arc a little bit more, to make it just a little more explicit."
The show will feature Byrne alongside Jacquelene Acevedo, Gustavo Di Dalva, Daniel Freedman, Chris Giarmo, Tim Keiper, Tendayi Kuumba, Karl Mansfield, Mauro Refosco, Stephane San Juan, Angie Swan and Bobby Wooten III.
Karl Mansfield will serve as musical director and Alex Timbers as production consultant, while Rob Sinclair will handle lighting design, Pete Keppler will handle sound design, and Annie-B Parson will contribute choreography and musical staging.
Byrne is familiar with Broadway. He scored "The Catherine Wheel," a dance project by Twyla Tharp that debuted in late 1981. More recently, his 2010 album Here Lies Love, a collaboration with Fatboy Slim about the life of former First Lady of the Philippines Imelda Marcos, became the basis for a musical of the same name that debuted at the Public Theater in 2013; Byrne's musical "Joan of Arc: Into the Fire" opened at the same venue in 2017.
The Hudson Theatre, the home for "David Byrne's American Utopia," itself has a rich history. First opened in 1903 and granted New York City landmark status in 1987, the venue only recently returned to its original role as a Broadway theater, after decades spent as everything from a cinema for adult films to a conference center for the Macklowe Hotel.
In 2017, Ambassador Theatre Group reopened the venue, which has since hosted programming George Orwell adaptation "1984" to Go-Go's jukebox musical comedy "Head Over Heels."
Though Las Vegas pioneered the concept of artist residencies around 15 years ago, Bruce Springsteen's acclaimed Broadway show – which, from October 2017 to December 2018, grossed $113.2 million, according to Pollstar Boxoffice data – changed the conversation about popular musicians staging productions on Broadway. Morrissey wrapped a brief stint at the Lunt-Fontanne Theatre earlier this month, and Live Nation, The Araca Group and EBG announced collaborative plans in March to bring artists to that same venue for residencies.