David Byrne & Choir! Choir! Choir! coveredd Bowie & Madonna @ Public Theater (pics, video)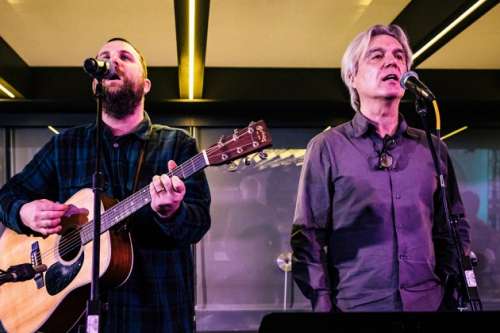 Photo by Sachyn Mital
Written by Amanda Hatfield
David Byrne was the surprise "VIP guest" of Choir! Choir! Choir!'s free-with-RSVP performance on Saturday at the Public Theater as part of the 2018 Under the Radar Festival. It wasn't totally a surprise, at least to fans on Byrne's mailing list who got an email earlier in the day where he wrote, "I've sat mesmerized watching online videos of the Canadian group Choir! Choir! Choir! They somehow manage to get hundreds of strangers to sing beautifully together ….With almost no rehearsal – how do they do it?? They manage to achieve lift off – that feeling of surrender when groups sing together – when we all become part of something larger than ourselves."
Choir! Choir! Choir! was founded by Daveed Goldman and Nobu Adilman in 2011, offering a community-building event where they provide a lyric sheet to all attendees and then their vocal arrangement prowess and a few hours of practice leaves a formerly disheveled group of locals sounding like true professionals.
Those in attendance received their lyric sheets upon entry into The Public Theater's lobby, and practiced their back-up "oohs and ahs" for nearly 30 minutes. David Byrne then joined Daveed and Nobu on stage for five full iterations of David Bowie's "Heroes" that were filmed for Choir Choir Choir's digital channels. Due to the high energy of the crowd, David and crew also led attendees in a quick rendition of Madonna's "Borderline." Watch fan-shot video of "Heroes" and "Borderline," below. Photos are in the gallery above.
Having launched 14 years ago, Under the Radar Festival provides a "high-visibility platform to support artists from diverse backgrounds who are redefining the act of making theater." It wrapped up this past weekend.
David Byrne's anticipated new album American Utopia is out in March and he's prepping a world tour as we speak.
Video by BrooklynVegan