David Byrne gave us "Reasons to be Cheerful" at BRIC OPEN Festival kickoff Read More: David Byrne g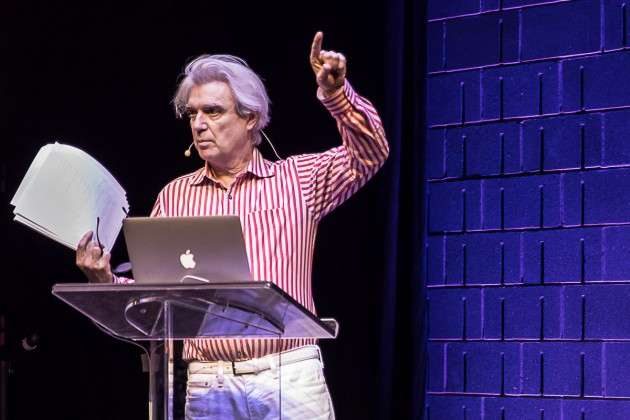 Photo c/o: Lou Montesano
There are those who believe that art and culture is the province of the few, the elite – i.e., those who can afford it. Then there's BRIC Arts and Media on Fulton Street. The BRIC organization advocates that culture is everyone's right and, as one of the city's largest presenters of free cultural programming, it backs up that advocacy big time.
Thus, the inaugural – and free – BRIC OPEN Festival.
The festival launched Thursday night (4/27) with the protean David Byrne, who delivered a presentation called "Reasons To Be Cheerful," the title inspired by the late, great Ian Dury of Blockheads fame. Offering dozens of examples of "good, inspiring things happening in our community, and in the world" in these "troubling times" — one day after the Trump Administration announce a massive tax cut benefiting the wealthiest folks in the country (including Trump, his family and businesses) — Byrne's presentation gave much-needed perspective, if not a complete antidote, for the depression felt by so many since November. Areas where Byrne sees work being done to underpin his optimism include some he has long thought about and fostered wider concern in – alternative energy, cities and habitats, civic engagement, getting along, and being just a little smarter about it.
A design student and painter before gaining fame as co-founder, lead singer and chief song-writer in the seminal rock band, Talking Heads, Byrne's talents have blossomed in many fruitful directions through the years – he's started a record label (Luaka Bop), he has collaborated on theatrical productions, most recently the critically-acclaimed Joan Of Arc; and, as an avid cyclist and bicycle advocate, he has worked on smart ways to integrate bikes into city life more efficiently. At BRIC House, the first night festival audience was treated to vintage Byrne: some spoken word performance art; a big dose of architectural rigor; a dash of funky fun and infectious laughter; razor intelligence. A cross of the early stand-up Woody Allen with a RISD professor doing a TED Talk, Byrne did his best to bring light to the modern political darkness.
While there's little doubt the Age of Trump has and will continue to foster feelings of doom, gloom and general pessimism in the sentient world, David Byrne managed to find a few bright spots. Then, following a Talking Heads-era graffiti dictum ("F#@K ART LET'S DANCE"), it was time to boogie. To that end, DJ Geko Jones was on hand to get the crowd rocking and ensure a successful OPENing night.
The inaugural BRIC OPEN Festival – which the organizers say is just a beginning and plan to grow – continues this weekend with a host of performances and activities, some more overtly political than others. Some of the featured events include: on Friday (4/28), Columbia Journalism Review is partnering on a town hall forum called "The People, The Press & The President." Saturday (4/29) brings a host of activities and performances with and by dancers such as Ronald K. Brown, Katy Pyle, Urban Bush Women, and Arielle Rosales. "Guitar Mash: A Campfire Jam" will bring guitarists and music lovers together into a "Campfire Jam" led by Mark Stewart, music director of Paul Simon's band, with Vernon Reid (Living Colour), Scott Sherrard (Gregg Allman Band), and others. The festival winds up on Sunday (4/30) with the premiere of a project that will present a live performance of Dr. Martin Luther King's final sermon "The Drum Major Instinct." All events are free; check BRICArtsMedia.org for details.