David Byrne is bringing his American Utopia to Broadway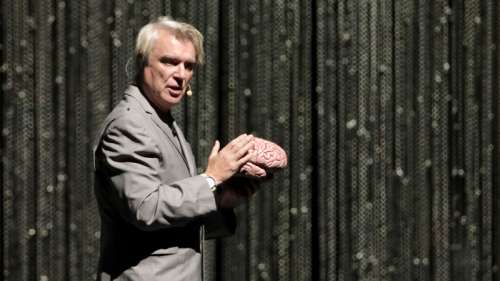 Photo: Dave Simpson (Getty Images)
By William Hughes
David Byrne is no stranger to the stage; in addition to obviously theatrical productions like Jonathan Demme's landmark concert film Stop Making Sense, the former Talking Heads frontman has written music for a number of operas and musicals over the years, including Alex Timbers' celebrated Here Lies Love. Now he's headed to Broadway himself, following in the footsteps of certain other legendary rock artists who've recently made themselves fixtures on the Great White Way.
But rather than going for something stripped down and intimate, in the style of Bruce Springsteen's monumentally successful Springsteen On Broadway, Byrne is pursuing the spectacle, bringing his expansive, highly mobile American Utopia tour to a limited-run theatrical residency. Here's our own Erik Adams describing his reaction to the highly choreographed (yet also distinctly minimalist) tour, in which Byrne works his way through large swathes of his discography:
I went into the night expecting to see one of my favorite musicians (and the driving force behind my favorite band) put on a show that would maybe, just maybe, live up to one of my favorite movies. I left having cried every last tear in my body, and with the conviction that I need to get a tattoo of the "This Must Be The Place (Naive Melody)" lamp.
Obviously, we can't assure you that the Broadway incarnation of American Utopia will fill you with a similar urge for ink. But Byrne clearly intends to make the most of the opportunities afforded by working out of a fixed location: "Parked in a beautiful Broadway theater we can perfect the sound, the lights, the movement," he wrote in a recent essay about the move. "I thought to myself that this new context might be good—it might bring out the narrative arc a little bit more, to make it just a little more explicit." Byrne is working with Timbers and frequent collaborator Annie-B Parson on the revised project, which will begin its limited engagement at Broadway's Hudson theater on October 4, following a pre-Broadway run in Boston that starts on September 11.