David Byrne leads Choir! Choir! Choir! in covers of Bowie and Madonna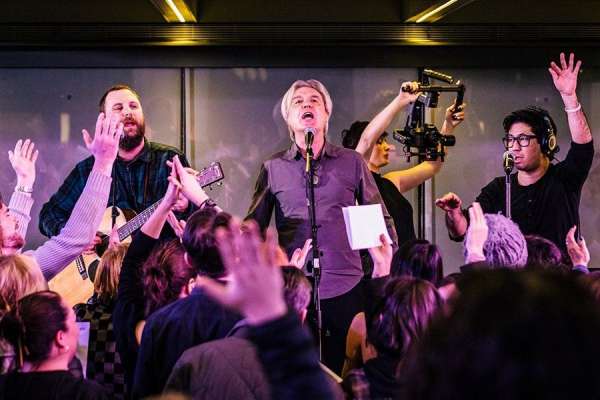 Photo by Sachyn Mital
Written by Eddie Fu
Toronto's Choir! Choir! Choir! is an open-invitation singing group known for its massive tributes to music legends like Leonard Cohen and Chris Cornell. It turns out David Byrne is a big fan of their work, posting on Facebook that he's "sat mesmerized watching online videos" of the choir. On Saturday night, the Talking Heads founder joined Choir! Choir! Choir! for a performance in the lobby of New York's Public Theater as part of Under the Radar Festival.
According to Brooklyn Vegan, Choir! Choir! Choir! and Byrne played five separate renditions of David Bowie's 1977 classic "Heroes" filmed for the group's digital channels. Before the night was over, they ran through an unplanned cover of Madonna's 1984 hit "Borderline".
Earlier this month, Byrne announced American Utopia, his first solo album in 14 years. It will arrive March 9th and be supported by an 80-date world tour he's described as "the most ambitious show I've done since the shows that were filmed for [Talking Heads'] Stop Making Sense."
Watch fan-shot footage of the performance below.