David Byrne shares official video for his Choir! Choir! Choir! cover of David Bowie's "Heroes"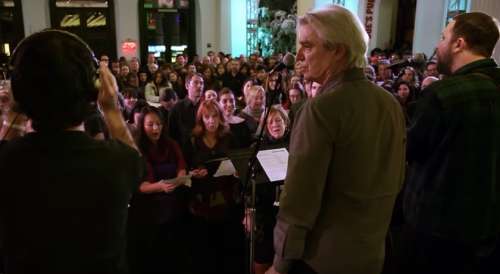 Written by Ben Kaye
Earlier this month, David Byrne teamed with Choir! Choir! Choir! for a performance as part of New York's Under the Radar Festival. In tribute to the late, great David Bowie, the Talking Heads frontman and the crowd-sourced singing group covered "Heroes". Fan-shot footage of the performance appeared online not long after the event, but now an official video has been released.
Commenting on working with the Choir! Choir! Choir!, Byrne said in a press release,
"There is a transcendent feeling in being subsumed and surrendering to a group. This applies to sports, military drills, dancing… and group singing. One becomes a part of something larger than oneself, and something in our makeup rewards us when that happens. We cling to our individuality, but we experience true ecstasy when we give it up. So, the reward experience is part of the show."
Watch the clip below.
Byrne recently announced
American Utopia
, his first solo album in 14 years, which is due March 9th. It will be supported by an
80-date world tour
Byrne's described as "the most ambitious show I've done since the shows that were filmed for [Talking Heads']
Stop Making Sense
." He'll also appear at a number of festivals including
Coachella
,
New Orleans Jazz
, and
Shaky Knees
.