David Byrne To Bring American Utopia To B'Way For A Residency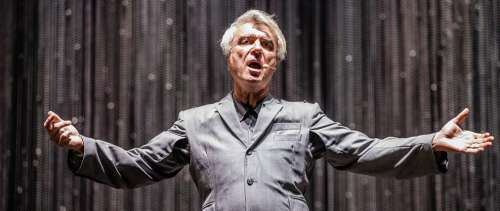 (Ben Houdijk / Shutterstock.com)
By Ian Courtney
NEW YORK (CelebrityAccess) — David Byrne is bringing his American Utopia show to New York for a Broadway residence.
According to the New York Times, American Utopia will run from Oct.4th to January 19th at the 1,050-seat Hudson Theater on Broadway, with its official opening on October 20th.
Prior to the debut, the show will preview at Boston's Emerson Colonial Theater, with 19 performances scheduled from Sept. 11 to Sept. 28.
Byrne released "American Utopia" as an album last year, and launched an acclaimed international tour in support. The show, which featured Byrne performing with dozens of musicians, hit 27 countries around the world, performing material from the Byrne's album, as well as music from his extensive catalog, including hits from the Talking Heads.
"My friends would talk to me about the show, and often they said, 'David, there's a narrative in this — you never articulate it, but we get it by osmosis from the music and what we're seeing from the band and the choreography,' " he said. "I thought that was very encouraging, because what we do is more theatrical than the usual concert, and if we can bring that out a little more, it becomes something that really makes sense on Broadway," Byrne told the New York Times in an interview.