David Byrne, Warren Haynes, Jason Isbell & More Honor Mavis Staples At Apollo Theater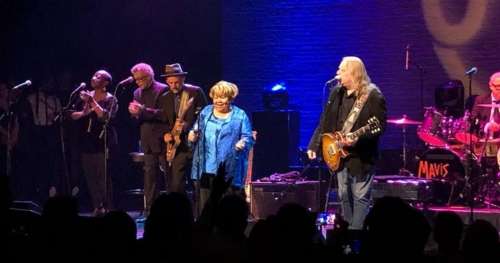 Photo by Jeffrey Greenblatt
By Scott Bernstein
Legendary vocalist Mavis Staples celebrated her forthcoming 80th birthday, which takes place on July 10, with the first of three all-star concerts. Last night's performance was held at the iconic Apollo Theater in Harlem and featured David Byrne, Warren Haynes, Jason Isbell and more.
The evening started with a short set containing songs from Hiss Golden Messenger and Liz Vice, Nicole Atkins and Binky Griptite and Lake Street Dive. Mavis then emerged to lead her band through "If You're Ready (Come Go With Me)" from her days in The Staple Singers, "Take Us Back" off 2016's Livin' On A High Note and "Anytime" from Staples' forthcoming We Get By collaboration with Ben Harper.
David Byrne was the first guest of Mavis' set and to the surprise of few he joined Staples and the band for the Talking Heads classic "Slippery People," a song that Mavis recorded for the Staples Singers' 1984 album Turning Point. Next, Jason Isbell teamed with the 79-year-old vocalist for "Change" off We Get By. Then, The Lone Bellow collaborated with Staples on Buffalo Springfield's "For What It's Worth" before Valerie June added to Livin' On A High Note favorite "High Note."
The evening's next guest was Maggie Rogers for the traditional "Will The Circle Be Unbroken." Warren Haynes continued the parade of collaborators as he added scorching guitar and vocals to "We're Gonna Make It" from Mavis' 2010 effort You Are Not Alone. The title track from the album was played with Norah Jones after Lake Street Dive helped out on "Build A Bridge" off 2017's If All I Was Was Black. Jon Batiste teamed with Mavis on the "I'll Take You There" that ended the main set and all of the evening's performers joined in on The Band's "The Weight" as the grand finale.