David Byrne Will Offer Some Free 'Reasons to Be Cheerful' at New Museum's Ideas City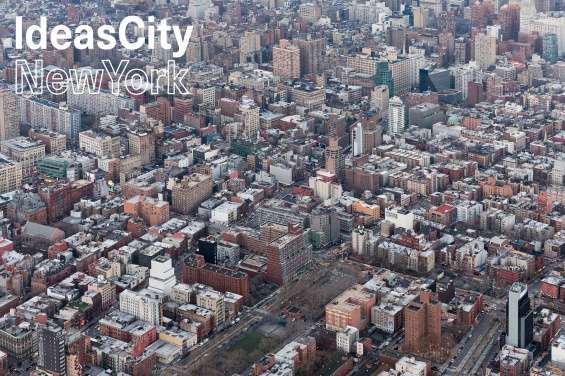 Photo: Iwan Baan
Written by Daniel Maurer
Let's face it, life is depressing these days and this guy's Daily Affirmations just aren't going to cut it. But don't cryogenically freeze yourself with a request to be thawed out on Election Day, 2020 just yet. David Byrne, the legendary frontman of Talking Heads, is hopping off his bicycle long enough to share some "Reasons to Be Cheerful" at New Museum's upcoming Ideas City festival.
New Museum just announced the lineup for the festival, which occurs outside of its Bowery building every year, and Byrne is set to close out the Forum Stage, where dozens of speakers and performers will present "100 Actions for the Future City." On Sept. 16, he'll do a version of the free talk he gave at the BRIC OPEN Festival, which was described as a "refreshing reminder that, despite troubling times, there are still many good, inspiring things happening in our community and in the world."
According to Brooklyn Vegan, which attended the April talk, Byrne's optimism was fueled by developments in "alternative energy, cities and habitats, civic engagement, getting along, and being just a little smarter about it." The presentation– "a cross of the early stand-up Woody Allen with a RISD professor doing a TED Talk"– featured "some spoken word performance art; a big dose of architectural rigor; a dash of funky fun and infectious laughter; razor intelligence."
During the audience Q&A, Byrne said he based the title on Ian Druy's song of the same name. "That song came out during another period where it seemed kind of bleak," body double, not Stephen Colbert, will be speaking at 6:40pm, at Sara D. Roosevelt Park at Chrystie and Houston Streets. Admission is free. Here's the festival's full lineup.