David Byrne's 'American Utopia' Will Return to Broadway Next Fall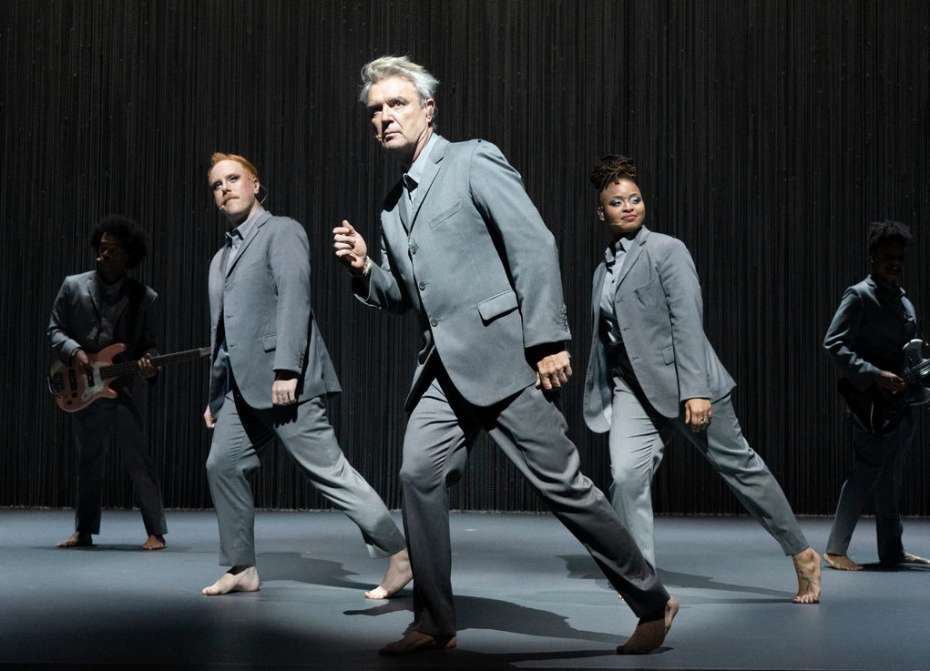 David Byrne, center, in his show "American Utopia" on Broadway.Credit...Sara Krulwich/The New York Times

By Michael Paulson
David Byrne ended the remarkably successful Broadway run of his "American Utopia" on Sunday with a surprise announcement: He will reprise the show for another 17 weeks next fall and winter.
"American Utopia," an energetic and tightly choreographed theatrical concert, has won acclaim from critics and audiences, and has proved to be a financial hit, consistently selling out the 961-seat Hudson Theater with tickets priced at as much as $649.
Spike Lee has announced that he would direct a filmed version of the show, to be released this year. Byrne is also scheduled to perform with the "American Utopia" musicians on "Saturday Night Live" on Feb. 29.
The return engagement, also at the Hudson Theater, is scheduled to run from Sept. 18 through Jan. 17. The theater will be occupied this spring and summer by a revival of "Plaza Suite," a Neil Simon comedy starring Sarah Jessica Parker and Matthew Broderick.
"American Utopia," initially the title of a Byrne album and performed in concert venues around the world, arrived on Broadway last October, and recouped its $4 million capitalization just 10 weeks after opening. Byrne, a 67-year-old pop star who became famous as the lead singer of the Talking Heads, generally performed 6 shows a week, for a total of 121 performances; the show includes songs from the recent album, as well as classic hits.
Writing in The New York Times, Ben Brantley called the show a "cloud-sweeping upper." It is choreographed by Annie-B Parson. The Broadway run features the stage director Alex Timbers as a production consultant, and is produced by Kristin Caskey, Mike Isaacson, Patrick Catullo and Todomundo, which is Byrne's record label.
The Broadway run grossed a total of $18.8 million, and had been seen by 107,575 people, as of Feb. 9, according to the Broadway League. During the week that ended Feb. 9, the show's average ticket price was $211, second only to "Hamilton."