David Byrne's Contemporary Color Makes Urgent Art Out of Pageantry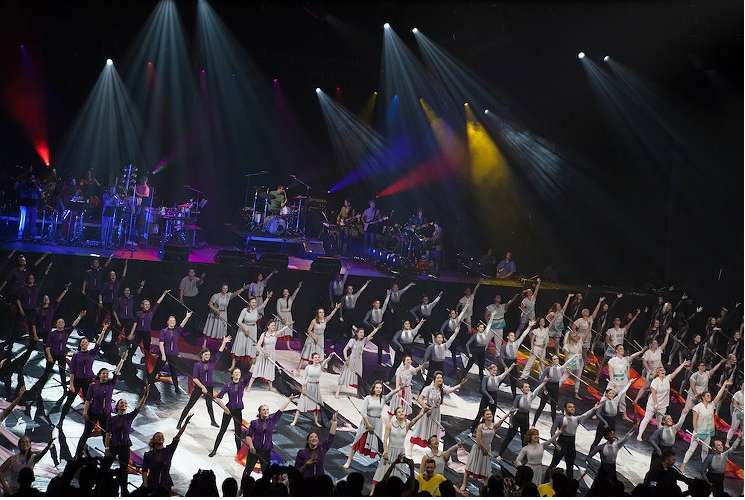 By Alan Scherstuhl
In the December 1989 issue of Details, then a magazine of downtown style and culture, a host of artists, writers, and celebrities answered questions about the future: "What do you think the 90s will be like?" asked the cover. Wonderful/terrible, everyone answered. Inside, Details posed this one: "What do you think David Byrne will be doing in the year 2000?"
The question might have been satiric, but the answers were awed and imaginative. Sadly, to see them you'll have to dig into microfiche — my copy of that issue was pinned up all over my bedroom. Only a cock-rockist provocateur, probably Gene Simmons, said anything unflattering, and that was a dumb swipe like probably still making soulless white music, something that betrayed the truth that the cock-rocker knew nothing of Byrne's art and interests.
But none of them could have guessed that, after '00, Byrne would get weirder and warmer, that his greatest post–Talking Heads record would be a generous collaboration with a much younger singer-songwriter, St. Vincent, and an army of brass. Or that in 2015 his collaborators would be high schoolers, and that, at a series of stadium shows, he and a strong roster of performers — including a Beastie Boy and a recent Pazz & Jop winner — would subordinate their own performances to the flags and batons of those kids' color guard teams.
But there he was, at the Barclays Center Saturday and Sunday night, belting his likable new pop-aria "I Was Changed" from behind a squad of teens from a Québécois high school snapping silks and executing crisp military-cheer choreography. Details was prescient, but they didn't see that coming. And they never would have dared to guess that the weekend Byrne introduced Brooklyn to what he calls "the vernacular artform" of color guard would also be the weekend that marriage equality became a national reality. "Ladies and gentlemen, America has changed," Byrne said upon first taking the stage. The crowd whooped, but on the arena floor Les Eclipses — those dazzlers from French Canada — held still in their pre-performance positions, the squad members all paired off and embracing, mostly as same-sex couples. 1989 would not believe this.
Byrne and the Brooklyn Academy of Music's Contemporary Color was a gobstopper, the greatest school assembly anyone ever imagined. Byrne's big idea: Pair up ten musicians with ten of the U.S. and Canada's top color guard teams. The squads got unique recordings to perform to at competitions, rather than the usual homemade edits of existing music; then, as a capper, they got the chance to perform with live musicians for four nights, here and at Toronto's Luminato Festival — the best assembly is also the best-ever field trip. Byrne has written and spoken persuasively about the power of color guard, about its curious place as both sport and artform. Rooted in military and parade culture, and then adapted to football, color guard has in recent years flowered into urgent, versatile, collective expression steeped in dance, cheer, and the traditional twirling of (plastic) sabers and rifles. This is kids making culture out of what they have available — playlists and the trappings of militant jingoism. In Contemporary Color, one squad (from West Chester, Pennsylvania) painted, in dance and flags and the music of St. Vincent, the experience of feeling as if you're a mental patient inside your own head. "It has to be perfect!" a cloying voice snapped, as the kids, through ritualized movement, exorcised the torments of teendom.
The team from Mechanicsburg, Pennsylvania, demanded we stare into the horror of kidnappings and abductions — and also at how adept Mechanicsburgers are at leaps, twirls, and catching their batons. Their piece, "Every Forty Seconds," was scored to the distinguished clatter of How to Dress Well; the squad is some twenty kids strong, but by the end just one remained for us to applaud — the rest had gotten snatched, one at a time, by mysterious hands through the gray scrim backdrops surrounding the performance space. The absence felt wrong, in just the right way.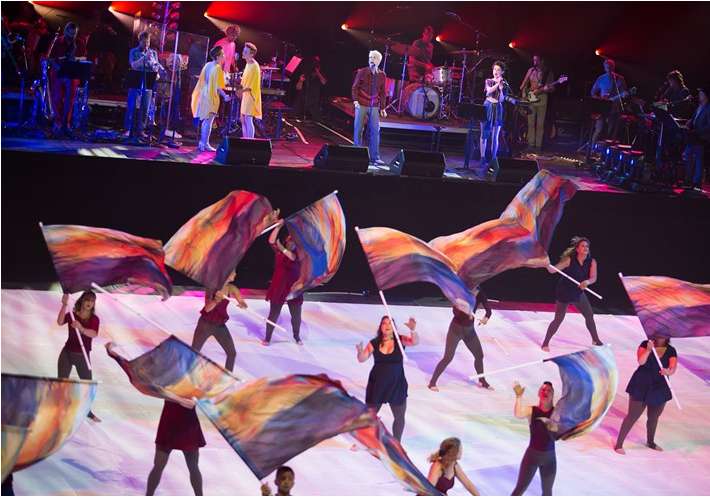 Most daring of all, perhaps, was Emanon, from Hackettstown, New Jersey. Emanon had the luck to draw the project's most thrilling music, a mighty robo-pocalypse from tUnE-yArDs, but they brilliantly pressed their advantage, donning Christmas-light cummerbunds to play the roles of jittery androids with faces painted half white — speaking of 1989, this was some Prince-in-"Batdance" style crazy. Like most of the songs accompanying the flag-dances, tUnE-yArDs' "Body Code" offered both big beats — in this case, of the lumbering-android variety — and moments of solemn quiet, the better for us to hear the squads' swish and thump. "Body Code" collapsed into a raw, minimalist ending, just a single violin player scrapping through some tentative chords. It sounded like the coda of Appalachian Spring sawed out by the Tin Woodman of Oz, just before he locks up. The kids, meanwhile, formed into a circle and then collapsed, honoring both the piece's feeling of despondent S-F but also the true-life teen feeling this is so awesome I just can't even. tUnE-yArDs' wasn't the only memorable music. Nelly Furtado's song, GENER8ION's "World Premiere," is everything you would ever want from a Nelly Furtado song, and Lucius's swelling noir ballad "What's the Use in Crying" suggests some great lost Bond theme sung by Doris Day. No wonder that the smart folks at Shenendehowa High School in Clifton Park, New York, set to it a Hitchcock tribute. Before a re-creation of the jungle gym from The Birds, they whipped around flags with ravens on them, and some with "No Vacancy" signs — and jumped in and out of rolling showers.
The most moving performance was the most directly personal. Alter Ego, the team from Trumbull, Connecticut, worked with Ira Glass and the composer Nico Muhly. They played to Glass's strengths, recording interviews with the team members and layering the kids' own words over a sparkling post-rock chamber piece. They speak touchingly about their anxieties and aspirations, but also about the performance itself: We hear a young woman count the beats that she was working through onstage, and then a young man would admit that the next moment, when he has to catch a flag, is the one he's most nervous about.
Glass introduced Alter Ego on Sunday by pointing out that, for the seniors, this performance would be a last hurrah — high school's done. That heightened emotions. As the audience clapped, tears ran down many of the dancers' faces, and there was a feeling of triumph and accomplishment in the big finale, when all ten squads, some 300 teens, packed the Barclays floor for one last round of razzle-dazzle. The musicians joined them for that encore, but in this case the pros you know were the cheerleaders. The kids were the stars — but stars that Byrne and that crowd were welcoming (along with their art) to the future, to a changed America whose next ten years can't possibly be predicted. Still, I'd love to ask them: What do you think the 2020s are going to be like? And what will David Byrne be up to?