David Byrne's "How Does the Brain Wave" Remix Benefits P-Funk's Bernie Worrell's Cancer Treatment
Via Pitchfork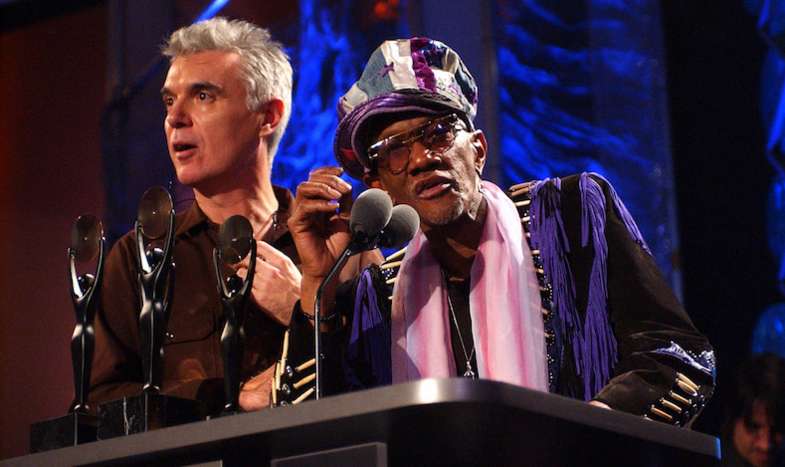 By Sheldon Pearce and Evan Minskr
Earlier this year, it was revealed that Parliament/Funkadelic co-founder Bernie Worrell had been diagnosed with cancer. Now, David Byrne is looking to help his friend. Byrne remixed "How Does the Brain Wave," a track by Worrell and Prince Paul's project Baby Elephant. Byrne's remix, along with an additional Jamie Lidell remix of the song, are available to be streamed and purchased, Rolling Stone reports. The proceeds will go toward Worrell's medical bills as he fights prostate cancer and stage-four liver and lung cancer. Byrne is also throwing an auction of original artwork and autographed instruments to benefit Worrell's treatment. Fans are also encouraged to donate directly to the Bernie Worrell Fund. Purchase and stream the track here and find the single's original artwork by Byrne below.
Byrne wrote about Worrell on his website:
Bernie is classically trained (as well as having perfect pitch—I've heard him improvise with the sounds of traffic), so he brought those skills to the Afro-Futurism of the P Funk universe… a bit of keyboard cosmos into the funk chants and beats of that world that made it what it was. I learned a lot from that music, and of course from the time spent travelling and playing with Bernie—wordplay, musical attitude and lot more. He informed the musician and composer I was to become.
In the 1980s, Worrell joined the Talking Heads. He toured with them, performed on Speaking in Tongues, and appeared in their iconic concert film Stop Making Sense. Find a clip below.