David Byrne's Road To Somewhere
Via The Star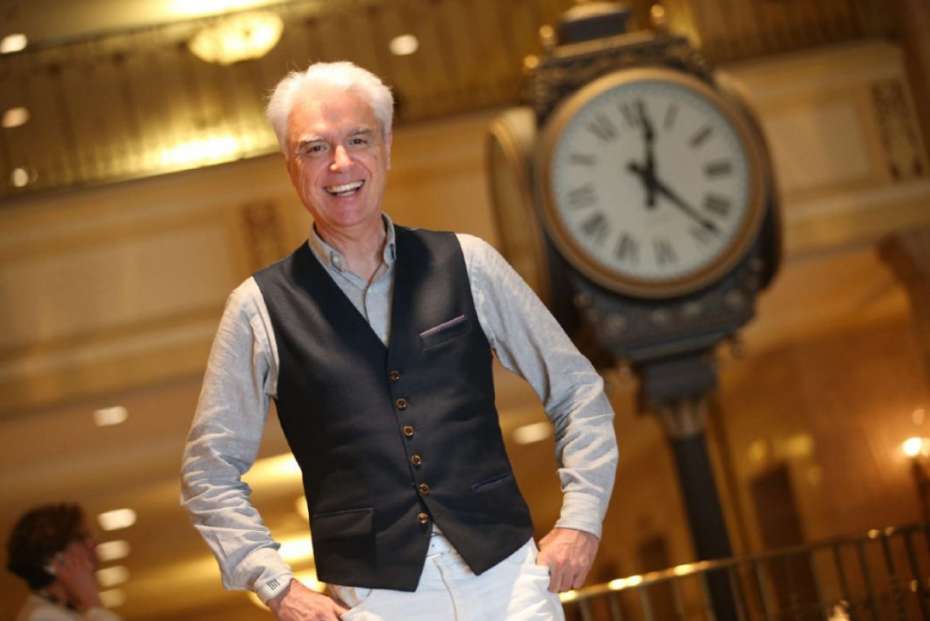 By Richard Ouzounian
Talking to David Byrne about Contemporary Color, the mammoth explosion of performance art he's bringing to Toronto as part of Luminato on June 22, lyrics from the 1985 Talking Heads album Little Creatures come to mind.
"We know where we're going/But we don't know where we've been/And we know what we're knowing/But we can't say what we've seen/And we're not little children/And we know what we want/And the future is certain/Give us time to work it out," goes the song "Road to Nowhere."
The 62-year-old musical creator couldn't have come up with a clearer mission statement of the journey he's been on for over four decades if he tried, but that's what Byrne has always done: open the door, point the way then tell us what we've just experienced.
A warm, gentle smile creases his face as he talks about the winding path that led him to create Contemporary Color, which unites the popular colour guard culture with an array of cutting-edge musicians, from Byrne to Nelly Furtado and How to Dress Well.
"This is how my whole life has gone. It seems that there's a niche or space that's completely empty and then you think of a project like this. A lot of people have never heard of colour guard or of some of the musicians I'm matching these teams up with, and that's my whole idea.
"I'm the guy with his arm outstretched saying, 'Look at this,' then I can recede into the background and become part of the furniture."
It's hard to think of Byrne being any kind of furniture, except maybe Bauhaus, where the lines are clean, the beauty of the natural material shines through and form is closely aligned with function.
He laughs at the description of colour guard as "Glee meets ROTC," but prefers to call it "the art of the sports world and vice versa."
He grows almost paternal as he describes these groups scattered all over the world (although mostly in the United States) who perform athletic dance presentations during high school and college sports events in the fall and winter seasons but create full-blown performance art for competition every spring.
"Colour guard is a culture all its own. Some kids who take part, well, you might say they're the outsiders of the school," says Byrne. "They're probably not the football team guys. But they're not geeky because some of the things they do demand incredible physical strength.
"Luminato would normally not present a bunch of high school kids, but this is a kind of art form that has developed outside of the normal performance channels."
And there it is, the secret of why this appealed to Byrne. If anyone ever developed "outside of the normal performance channels," it's him.
Born in Scotland in 1952, by the time Byrne was 8 he'd lived in Dumbarton (Scotland), Hamilton (Ontario) and Arbutus (Maryland) as his electronics engineer father moved frequently for his career, a set of circumstances that he feels definitely shaped his life.
"Of course, moving around so young had an impact on me," he says. "It encourages a lot of self-reliance when you keep finding yourself in a strange community, speaking the same language but full of different nuances, meanings, essentially dealing with a whole new culture.
"You build up inner strength, which is good, especially if you're going to be into creative things a bit later on in life, but there's a negative side as well.
"The downside of all this for me was that all this self-reliance also went along with a certain degree of introversion. Until I was past 30 I was very shy. It was only later that friends would say to me, 'David, we used to go out somewhere and you'd be the one in the corner who wouldn't talk to anybody.'"
And this was after a taste of celebrity with his group Talking Heads, which he started at 23. He catches the puzzled look on your face and rushes to explain.
"I know it's hard to believe when you saw me up there onstage and ask how that guy could possibly be so shy.
"I came to realize that's exactly why I did it. That was my way of announcing, 'Here I am, here's what I do, here's what I've created.' But the minute I stepped off the stage, I went back into my shell."
During his high school years, Byrne thought his career would either be in art school or the kind of technical work his father had done. Music had never entered the picture.
Until one night in 1965, when Byrne was 13.
"I had a transistor radio and I'd listen to it pressed up against my ear every night. It was like there was another world out there beyond the suburbs where I lived. Like a telegraph, communicating something about that world directly to me, a code that was saying, 'There's a lot more of us out there. Just like you. Come and find us.' And I thought, 'Yeah, I'm gonna go find that.'"
The song that sent Byrne that secret message was Bob Dylan's "Mr. Tambourine Man," performed by the Byrds on their first album.
"I remember hearing those jangly guitars. And I thought to myself that it sounded like a gamelan. Yeah, I was the kid of strange kid who takes out folk music records from the library. I knew what a gamelan was and I thought what a strange way that was to make guitars sound."
But despite that epiphany, Byrne still never thought music would be more than a hobby for him.
"After high school, I applied to a technical college and an art school simultaneously. I dreamed there was a place where I could study both at the same time. A fair amount of what I do now brings those things together."
But music kept tugging at him and before too long, "I formed a group with two of the band mates who would later be with me in Talking Heads, wrote some songs and we got an audition at CBGB," he recalls, evoking the famous East Village club that was a petri dish for punk and new wave (despite the fact its initials were supposed to stand for "country, bluegrass and blues").
"We were the opening slot for the Ramones, who I remember as being incredibly noisy. There weren't that many people in the audience, but they were engaged. We held their attention. And that was enough for me. I knew we had a long, long way to go, but it worked. That was all that matters."
And that's all that still matters to Byrne as he combines colour guard groups with contemporary musicians, moving them around the board like he was some kind of multi-dimensional musical chess master.
"I was sitting next to a scientist on the plane coming up here this morning and he saw what I was reading on my tablet and he asked me if I was a scientist, too. And I said, 'No, I'm a musician,' and he just kind of shook his head."
But you'd think David Byrne would be used to that by now.
FIVE FAVE CREATIVE PROJECTS
THE CATHERINE WHEEL
In 1981, Byrne created the music for a new modern dance piece by Twyla Tharp. He later released it as an album, and the work of Tharp and Byrne toured widely and was also seen on Broadway.
THE LAST EMPEROR
Written in collaboration with Ryuichi Sakamoto and Cong Su, this score for Bernardo Bertolucci's film The Last Emperor won the Oscar for Best Original Score in 1988.
PLAYING THE BUILDING
Byrne and his team, in 2008, turned a Manhattan ferry terminal called the Battery Maritime Building into a playable musical instrument by connecting it to a pipe organ.
HERE LIES LOVE
Written in collaboration with Fatboy Slim, this 2010 album about Imelda Marcos became a daring environmental musical set in a disco, directed in 2013 by Alex Timbers to great acclaim.
CONTEMPORARY COLOR
This year, Byrne will unite 10 colour guard teams from across North America with 10 modern musicians to create a live performance piece that will play at the Air Canada Centre during Luminato 2015.