Dreading 2018? Don't - David Byrne just gave a seminar on these Reasons To Be Cheerful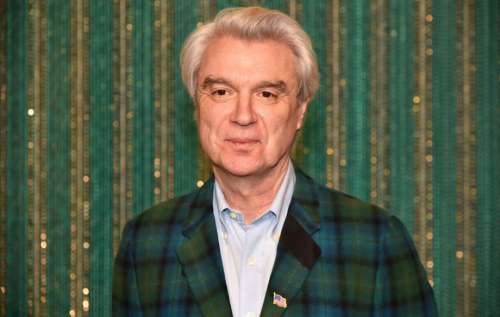 Written by Greg Cochrane
The Talking Heads star is talking positive…
2017 wasn't easy, was it? Nor was 2016. A seemingly bottomless swamp of stinky news – where short relief would come from a toddler gatecrashing a TV interview or an Irish family chasing a bat around the kitchen. It's been depressing. You only have to glance at the end of year lists to hear some of that turbulence reflected in the art of everyone from Kendrick Lamar to Protomartyr.
But now one iconic artist has chosen a different path. In March, David Byrne will release his first (fully) solo album in 14 years. It's called 'American Utopia', and features Brian Eno, Sampha, Oneohtrix Point Never and Jack Peñate (there you are!). The title isn't a despondent dig at things over the pond, but rather a question: "Does it have to be like this? Is there another way?". "The act of asking is a big step," explains Byrne, "The songs are sincere – the title is not ironic."
Essentially, the Talking Heads legend has made a proactive choice not to wallow in the bad news, but search for the glimmers of light. Over the past few years, he's been collecting inspiration. Think of it as a scrap book, where all the cuttings are about hopeful, encouraging, constructive stories.
On Monday (8 Jan), he launched the project with a lecture branded 'Reasons To Be Cheerful', a name inspired by the Ian Dury and The Blocks' song. Recorded in front of a live audience at The New School university in New York the hour-long session was half album launch, half TED Talk. Wearing a pink blazer and a lip mic (very Apple Keynote), these were some of David Byrne's causes to be chipper.
There are positive things are happening – you just have to look for them
First things first, David Byrne knows that some days (lots recently) it feels like the world has lost its collective sanity. It's not, he says, like he doesn't read the newspapers and share the pain. "You read this stuff and you feel like 'I want to retreat from this world, this is not what I signed up for!'" But, there is a lot to be cheerful about. In fact, a lot more than he can fit into a 60-minute talk. "I collect this stuff," he smiles. "This is just the stuff I've personally experienced – it's just the tip of the iceberg, there's an awful lot more."
Here are some great ideas that can be adopted more widely
Alright, so Byrne has been collecting good vibes, but what does he mean by that? Well, specifically, he's been looking at examples where small ideas, that often start locally, have been proven to work and can be adopted more widely. "Then let's hold them up for consideration, and let's invite others to add to this project," he enthuses.
First example: he posts a funny photo on the video backdrop of himself on a Velib bike in Paris (a keen cyclist, he takes fold-out wheels on tour). The bicycle share scheme, he points out, is an idea that can transform a city and its people. There weren't just positive consequences for the environment and health, but it also expanded people's "comfort zone". A common sight in major UK urban areas, the programmes are being adopted across the world. "It changes the way people think about their city and it changes their behaviour," he says. "When you don't have an easy mode of transportation, you think you have a five-block radius – a bicycle expands that."
The good news is, he found loads of examples and he's filed them into these categories: Climate/energy, culture, economics, education, health, science/tech, urban/transportation and civic engagement.
Things are connected that you don't think are connected – with positive results
He gives a bunch of examples to explain his point. Like the mayor in Vancouver controversially opening "fix rooms" for drugs addicts to consume in a safe and controlled environment. Not only did the number of drug-related deaths drop, but crime has significantly reduced in the local area, too. Or, the favela out near Rio de Janeiro airport that Byrne visited. Devastated by a shooting, a cultural institution was opened, which encouraged locals to learn Brazilian drumming, write theatre pieces and compose songs. "It was a very healing thing. The kids, before, whose only means before was to become a drug dealer started to look towards music, culture and the arts. The favela became safer."
Ordinary people are getting more engaged
Byrne name-checks a lot of inspiring individuals during his talk. From Eric Liu who started the Citizen University in Seattle through to Tishaura Jones, a local politician who unsuccessfully ran for mayoral office in St. Louis, Missouri, but opened up local conversations around race, justice and minimum wage. But, he's also encouraged by the collective.
A product of all this shared despair is that people are becoming more engaged. Byrne says he felt heartened when he traveled to Washington D.C. in January 2017 and saw so many people take part in the Women's March, which he illustrates by posting a photo of someone holding a placard that says "Trump likes Nickelback."
"People outside the political mainstream are becoming involved in issues, initiatives and even politics," he says.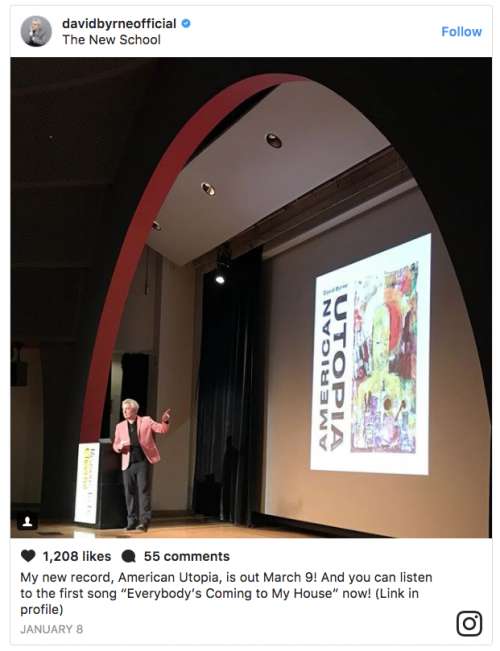 Final reason to be cheerful – there's a new album from David Byrne
They don't come around too often – though he's collaborated with St. Vincent and Brian Eno more recently, his last solo album was in 2004. The whole presentation ends with Byrne pressing play on his comeback track 'Everybody's Coming to my House', and he drops some clues about what will come next.
Known for his ambitious live gigs, 'American Utopia' will be accompanied with a brand new show. "It's about a fairly large group of us on stage," he teases. "It's not about screens, it's not explosions, it's about us and you guys."
Byrne's not just lecturing on his discoveries but sharing them for people to read too. Check them out at reasonstobecheerful.world.