How David Byrne Recruited St Vincent And Dev Hynes For An Epic Color Guard Stadium Showdown
Via Vice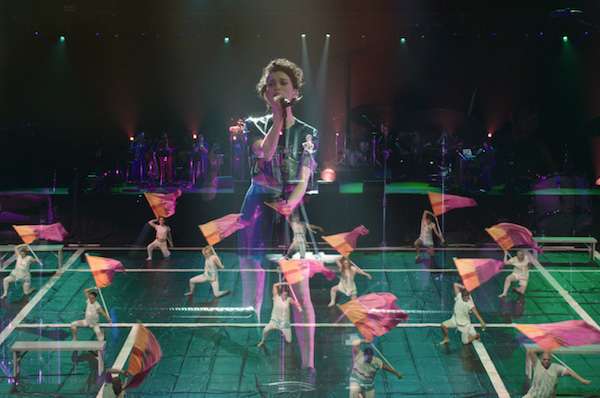 By Emily Manning
Seminal new wave band Talking Heads disbanded 25 years ago, so you might wonder where its maverick former frontman, David Byrne, channels all that creative energy these days. What music does he listen to? What does he obsess over? And how could he ever give his audiences something more humorous, emotional, earnest, artful, and energetic than Stop Making Sense — the 1984 Talking Heads documentary that's still regarded as one of the best concert documentaries ever made? He answered all of those questions at the Tribeca Film Festival on Thursday night, where he celebrated the world premiere of a new concert documentary, Contemporary Color.
Backstory: Some time over the past few years, Byrne became a massive fan of color guard — an American sport in which props including flags, sabres, and guns are incorporated into larger choreographed routines, typically staged at football halftime shows. At many high schools members of color guards are often considered at best cheerleading rejects, at worst freaks and losers. So, unbeknownst to much of the wider world, color guard is not only a nationally competitive sport, but also a truly thriving, vibrant creative culture. Byrne decided he was going to show the rest of us how cool color guard is in the coolest way imaginable: a full scale stadium showdown set to live music.
Last summer, Byrne selected 10 elite color guards to perform their competition routines at the Barclays Center in Brooklyn. He paired each of these guards with a contemporary musician — among them Dev Hynes, St. Vincent, Nelly Furtado, Tune-Yards, Zola Jesus, How to Dress Well, and Beastie Boys Mike D and Ad-Rock. Byrne tasked these musicians with writing an original composition based on the guard's routine, and then performing it live with their team at Barclays. Each musician composed their piece in just a week, and rehearsed with their guard only once before debuting the collaborative performance live in front of 18,000 people. It's as if American Gladiators had a baby with Bring it On and a Now! compilation of Pitchfork's Best New Music alumni. Only it's still better than all of that shit, because it happened in real life.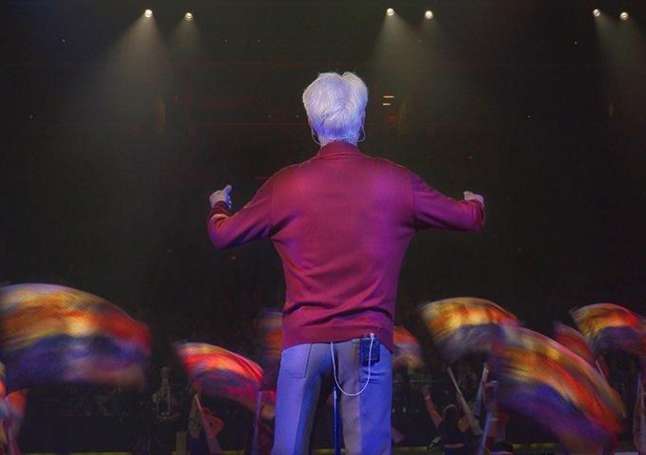 And if you think that sounds epic (you're right, because it's obviously the best idea anyone's ever had) I should mention that the whole thing — from the performances to the warmups, from the stage moms to the Barclays Center security guards struck dumb by watching a bunch of kids in sparkly leotards twirl flags — was filmed. The footage has now been collected as a deeply moving, laugh-out-loud funny documentary by Bill and Turner Ross, the filmmaking siblings behind immersive, community-driven documentaries like Tchoupitoulas and Western. So not only do we get to relive one of the most insane concerts of all time, we also get to meet the characters embedded in the fabric of color guard and its culture.
Following the film's premiere, Byrne moderated a Q&A with the Ross brothers and performers from various teams about the making of the documentary. "We took what we do — which is the study of a town — and just condensed it," Bill explained of Contemporary Color's focus on community. "Then we started to think about stuff that we'd seen as kids — like The Muppet Show or WrestleMania — that happens in an arena over the course of a certain amount of time. We got that frame worked out, and just went on this journey with David."
The best way I can describe Contemporary Color is by asking you to first watch this Beach House music video that Eric Wareheim directed. Try to picture the performers spinning flags and hurling wooden rifles high into the air instead of shaking pom-poms or doing booty pops. Now imagine Christopher Guest and Spike Jonze made a documentary about 10 of those performances, and all of the teams they featured were as dedicated, tight-knit, and optimistic as kids from the best early episodes of Glee. Now imagine Nicolas Winding Refn and Wes Anderson collaborated on the graphic design elements. You're getting there.
But the most amazing part about the film isn't its unparalleled musical lineup or the Ross brothers' mesmerizing visual sensibilities. It's color guard's real life, matter-of-fact diversity. Byrne curated an immensely broad range of musical superstars for a reason: the color guard routines are completely distinctive pieces of art — one of them, Byrne explained, is "about disappeared children, another an ode to Alfred Hitchcock." Kids of all shapes, sizes, colors, sexual and gender identities, economic backgrounds, and walks of life dedicate themselves to color guard. This unparalleled passion for the sport and its lifelong culture is at the center of This American Life host Ira Glass and Nico Muhly's collaborative composition for the Barclays show, in which Glass interviews members of the guard about the elements of their routine, the feelings they get while performing it, and their lives. Muhly added music to Glass' edited audio and the guard performed live to the sound of their own voices narrating their movements.
"This is a soulful thing," Turner Ross explained at the premiere. "There is this community — this very emotive community — of supreme athletes performing an art that, within their own world, is an amazing, thriving thing, but outside of it, really, is not." In making Contemporary Color, he and his brother asked themselves, "how could we take all those good tidings -- that really buoyant energy and atmosphere -- and try to translate that into an experience." So they went backstage, on the floor, in the audience, and to the guards' hometowns, "so that we weren't giving a didactic or surface view of this thing, but allowing people to live and breathe with these awesome folks."
Before he enlisted performers to treat the Tribeca crowd to a live demonstration, Byrne asked them about the ins and outs of color guard culture: balancing schoolwork with their 12-hour weekend practice sessions, and the intensity of national competition. He wondered, too, if they felt Contemporary Color would change the sport's perception in the outside world? One high school senior's answer encapsulated what the documentary made so clear: "It's so much more than just flags in a gym."