Mavis Staples played the Apollo w/ David Byrne, Jason Isbell, Norah Jones & more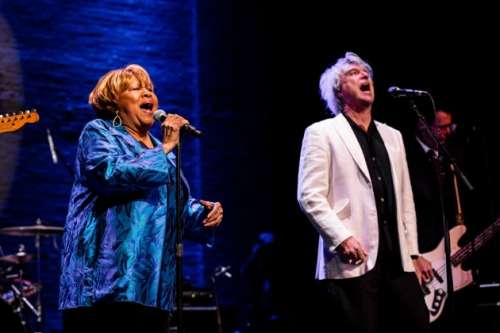 Photo by Ellen Qbertplaya
By BrooklynVegan Staff
The legendary Mavis Staples turns 80 this year, and she's celebrating with guest-filled birthday shows, the first of which was at Harlem's historic Apollo Theater last night (5/9). Guests throughout the night included David Byrne, Jason Isbell, Norah Jones, Maggie Rogers, Valerie June, Hiss Golden Messenger, Nicole Atkins, Lake Street Dive, Jon Batiste, The Lone Bellow, Warren Haynes, and more, and Hiss Golden Messenger, Nicole Atkins, and Lake Street Dive also played brief opening sets.
David Byrne's appearance was for the Talking Heads' 1983 song "Slippery People," which The Staple Singers recorded a cover of (with Byrne contributing guitar) and had a minor hit with. Jason Isbell joined for "Change" off Mavis' upcoming Ben Harper-produced album We Get By (release date pushed back to May 24 via ANTI-). The Lone Bellow joined for a cover of Buffalo Springfield's "For What It's Worth." Valerie June joined for Mavis' 2016 song "High Note," which Valerie wrote and sung backup on. Maggie Rogers joined for "Will The Circle Be Unbroken." Warren Haynes joined for "We're Gonna Make It." Lake Street Dive joined for "Build A Bridge." Norah Jones joined for "You Are Not Alone" and Jon Batiste joined for the Staple Singers classic "I'll Take You There." All the guests came back on stage during the encore for a cover of The Band's "The Weight." Check out the full setlist and some videos below. Pictures are in the gallery above.
The 80th birthday shows continue at Nashville's Ryman Auditorium on May 15 with Jason Isbell, John Prine, Nick Lowe, Nicole Atkins, Phil Cook, and more; and LA's Theatre at Ace Hotel on May 22 with Benjamin Booker, Jason Isbell, Lucius, M. Ward, Phoebe Bridgers, and more. Mavis also has lots of other tour dates coming up, including Madison Square Garden with Brandi Carlile, Croton, NY's Clearwater Festival, Pitchfork Fest, Red Rocks with Norah Jones, Chula Vista with Van Morrison, and more.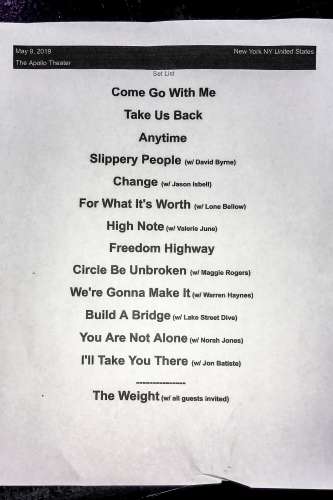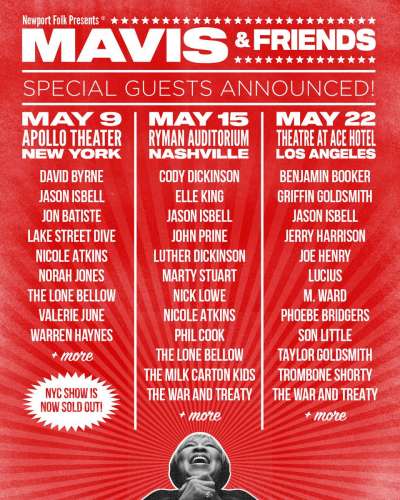 -
photos by Ellen Qbertplaya