Mavis Staples Reveals 80th Birthday Celebration Guests: David Byrne, Jason Isbell, More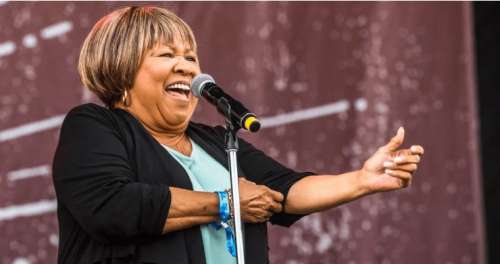 Photo: Carol Spagnuola
By Sam Berenson
Famed singer Mavis Staples will get the opportunity to celebrate her upcoming 80th birthday a little early this year, as Newport Folk Festival recently announced a run of three concerts from the singer set to take place in New York, Los Angeles, and Nashville in mid-May. The run of shows is being branded as Mavis & Friends: Celebrating 80 Years of Mavis Staples.
On Thursday, Mavis Staple unveiled the star-studded lineups for her upcoming celebratory concerts. On May 9th, Mavis will be joined by David Byrne, Jason Isbell, Jon Batiste, Lake Street Dive, Nicole Atkins, Norah Jones, The Lone Bellow, Valerie June, and Warren Haynes at New York City's Apollo Theater.
On May 15th, Mavis will be joined by Cody Dickinson, Elle King, Jason Isbell, John Prine, Luther Dickinson, Marty Stuart, Nick Lowe, Nicole Atkins, Phil Cook, The Lone Bellow, The Milk Carton Kids, and The War and Treaty at Nashville, TN's historic Ryman Auditorium.
Finally, on May 22nd, Mavis will be joined by Benjamin Booker, Griffin Goldsmith, Jason Isbell, Jerry Harrison, Joe Henry, Lucius, M. Ward, Phoebe Bridgers, Son Little, Taylor Goldsmith, Trombone Shorty, and The War and Treaty at Los Angeles, CA's Theatre at Ace Hotel.
"I must be the happiest girl in the world," Staples mentioned in a statement about the upcoming birthday shows. "After all this time, I still do what I love … I never thought I would still be singing at my age, and people seem to really want to hear me, they know me, they give me love—I'm just overwhelmed, really."
Net proceeds from the three birthday concerts will go directly towards extending the Newport Festivals Foundation's support of music education programs in each respective city.
Mavis & Friends' New York City show is now sold out. Tickets for the Nashville and Los Angeles performances are still available here.