Music legend David Byrne is coming to Broadway
By Maya Stanton
David Byrne's live shows have always enjoyed a touch of the theatrical, and with a stripped-down set, stark lighting design, and a boisterous band of collaborators unencumbered by cords, mics, or amps, his most recent tour was no exception. Now the former Talking Heads frontman is leaning into his flair for the dramatic and adapting his roadshow for the Great White Way. After a two-week pre-Broadway stint in Boston, American Utopia is slated to debut at the Hudson Theatre October 4 and run through January 19.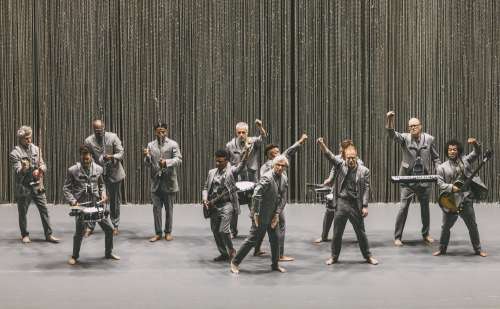 Image by Catalina Kulczar
"Because of how theatrical the show is, others started telling me, 'This needs to go to Broadway.' Why not?" Byrne said in an open letter on his website. "Parked in a beautiful Broadway theater, we can perfect the sound, the lights, the movement – we don't have to adapt to a new place every night! It was an exciting challenge."
Recognizing that the most impactful part of a performance isn't the jaw-dropping special effects but the performers themselves, Byrne devised his American Utopia tour to put the spotlight squarely on the musicians, "untethering" the drums and keyboards to make them completely mobile alongside the rest of the band. With no wires or gear in sight and only a fine chain-link curtain serving as a backdrop, Byrne and co. wove in his older material with songs from the new album, and it proved to be a mesmerizing display for audiences around the world.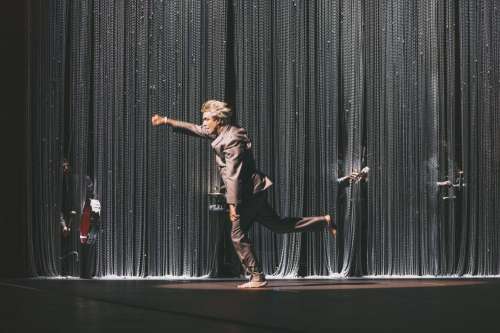 Image by Catalina Kulczar
It's an experience he hopes to replicate in New York, leaning on consultant (and Tony-nominated director) Alex Timbers and choreographer Annie-B Parson to expand on and refine the traveling show. "The Broadway crowd has slightly different expectations. There might even be audience members who don't know me or my music," he said. "I thought to myself that this new context might be good – it might actually help to bring out the narrative arc a little bit more, to make it just a little more explicit."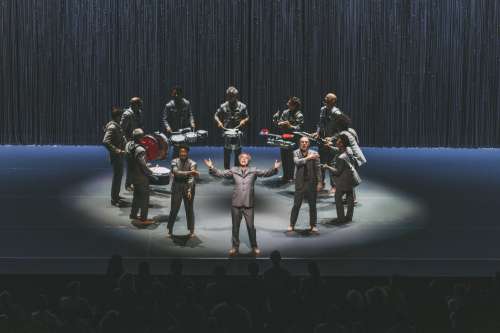 Image by Catalina Kulczar
Still, theater-goers shouldn't expect to have it all spelt out for them. Byrne refuses to divulge what the show is actually about ("that's like putting the nose on the clown"), but he does acknowledge that its title is not ironic. "In creating something – a song, a show, a blog post, a meal, a dance – a vision comes together, intuitively, gradually, bit by bit, little by little, and we don't always know the totality of what we've made until we can actually see, hear and taste it," he said. "It was that way with this show – it wasn't conceived all at once, but rather one part of it led to the next, it evolved organically, and as soon as one element was resolved, the next one presented itself – a new puzzle and mystery to be solved. And at some point, there it was."
For tickets and information, visit thehudsonbroadway.com.