Review: Angélique Kidjo Takes 'Remain in Light' Back to Africa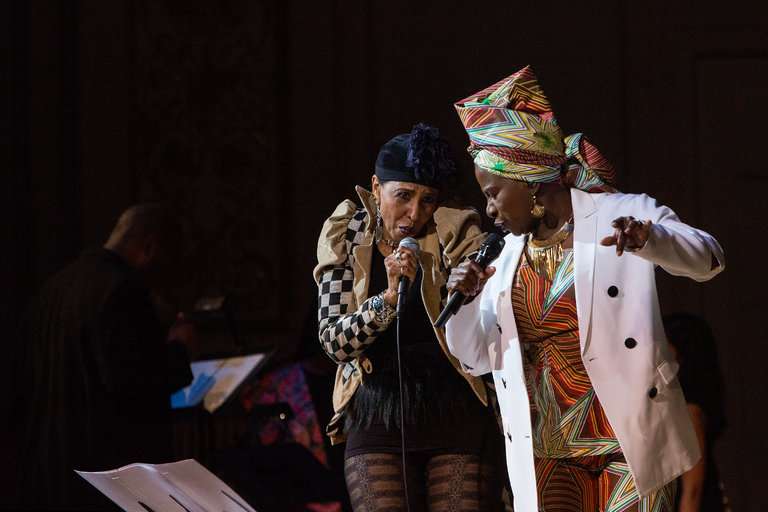 Angélique Kidjo, right, with Nona Hendryx, performing a reimagined version of the Talking Heads album "Remain in Light." Credit: Caitlin Ochs for The New York Times
Written by Jon Pareles
Africa rapturously reclaimed rock when Angélique Kidjo, from Benin, performed all the songs from Talking Heads' album "Remain in Light" on Friday night at Carnegie Hall, along with a few of her own. She plans to tour with "Remain in Light," and is recording the songs as a studio album with a top pop producer, Jeff Bhasker. From the stage, she declared, "I always as an artist want to try to find a way to create bridges between cultures."
Her bridge to "Remain in Light" carried mutual respect, playful cross-references and sheer pleasure, as Ms. Kidjo repatriated the grooves in the songs and threaded African words and melodies directly through them. She deftly deployed a huge ensemble: her own core band, backup singers including Nona Hendryx (who also sang on the original "Remain in Light"), guest lead guitarists, the horn section from Antibalas and a Senegalese drum quartet, Generation Percu. She also brought David Byrne, Talking Heads' leader, out of the audience to join her for a loose, gleeful "Once in a Lifetime."
When it was released in 1980, "Remain in Light" was a breakthrough for Talking Heads and one of many signals that post-punk would embrace music from the African diaspora. Talking Heads and Brian Eno, an American band and its English producer, soaked up West African music — particularly Fela Anikulapo Kuti's Afrobeat — and studied African methods, building songs on percussive polyrhythms and barely changing harmony.
Yet Talking Heads also held on to their arty Western side. The album tracks were elaborate studio concoctions, and Mr. Byrne's lyrics were splintered and nonlinear, often hinting at identities breaking down. "Lost my shape/Trying to act casual," he sang in "Crosseyed and Painless." For all its danceable momentum, "Remain in Light" is also awash in dislocation and uncertainty.
Between songs on Friday, Ms. Kidjo noted that she first heard "Remain in Light" after arriving in Paris in 1983, when she exiled herself from the censorship of Benin's communist regime at the time; she now lives in New York City. The album's African flavor made her nostalgic, she said, but she also recalled thinking, "This is African, yet it's got something that is turning my head upside down."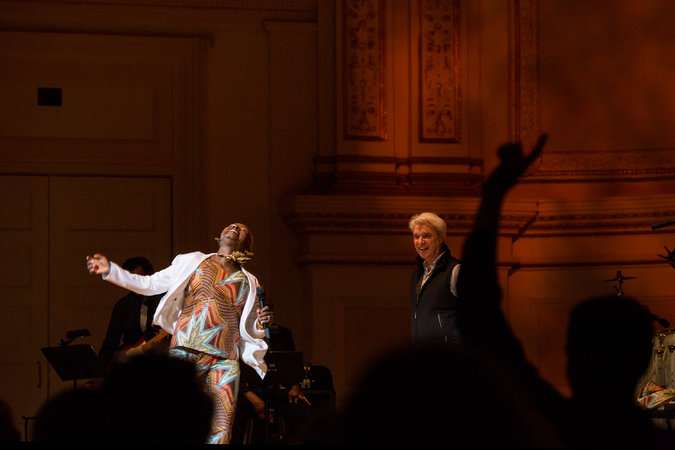 Ms. Kidjo and the leader of Talking Heads, David Byrne, performing "Once in a Lifetime." Credit: Caitlin Ochs for The New York Times
Now it was her chance to upend the songs. Where Talking Heads had dealt in tensions and dualities, Ms. Kidjo's element was joyful empowerment: the joy of an all-conquering voice and a righteous, uplifting spirit. In West African tradition, her own songs are lessons from a community's history and conscience, with music that maintains African roots while drawing on all her cosmopolitan experience. At Carnegie Hall, her "Afirika" became a communal singalong as Ms. Kidjo left the stage to parade through the audience. Later, in the final encore of "Burning Down the House" (remade with a Congolese soukous groove), she was back in the aisles, joined by her musicians.
Ms. Kidjo's versions of the Talking Heads songs stayed recognizable, keeping vocal parts and instrumental hooks, but they were layered with new back-to-Africa grooves, new guitar lines and new messages. According to information from Ms. Kidjo, contrapuntal melodies from the backup singers held proverbs in African languages. "Don't play with fire," they sang in Fon during "Born Under Punches"; "Don't forget the legacy of our ancestors," they sang in Yoruba during "The Overload."
All of Ms. Kidjo's changes were grounded in affection and ingenuity: topping the frantic funk of "The Great Curve" with a flashy blues-rock guitar solo by the 13-year-old prodigy Brandon Niederauer, trading the eerie electronics of Talking Heads' "Seen and Not Seen" for intricately rippling cross-rhythms and choral harmonies, and slipping excerpts from a Fela song, "Lady," into the Afrobeat of "Crosseyed and Painless." Ms. Kidjo wasn't toppling an icon; she was dancing on its heights.