So, What's Going on With Radiohead's Rock Hall Induction?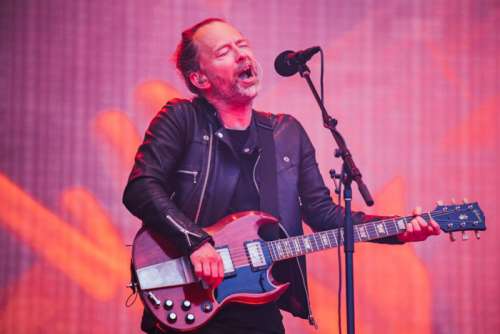 Photo: Andrew Benge/Redferns/Getty Images
By Devon Ivie
Last year, rock enthusiasts became unexpectedly captivated by the drama surrounding Dire Straits' fuzzy dismissal of the Rock and Roll Hall of Fame, so much so that Vulture covered it extensively by popular demand. Well, guess what, you snub enthusiasts! Radiohead is kind of, sort of filling that void for this year's induction class, as their long-standing feelings toward the Hall have been indifferent at best and completely resistant at worst. With the induction rapidly approaching next week, there are still a bunch of lingering questions as to how their segment will be handled, or if anyone from the band will appear at all. Here's what we know so far.
Prior to their induction announcement, what have Radiohead members said about the Rock Hall?
We should start by clarifying that Thom Yorke, Jonny Greenwood, Colin Greenwood, Ed O'Brien, and Philip Selway have never been outright haters of the institution. Their ideology can perhaps be best summed up as general skepticism and confusion over the Hall's continued prominence in America, which might signal a shift in mind-set that will become more prevalent with younger acts being inducted. "I don't care. Maybe it's a cultural thing that I really don't understand," Johnny put it at the time, with O'Brien adding, "I'd rather be sitting at home in front of the fire or going to a gig … it just feels non-authentic to us."
Colin and Selway, meanwhile, were slightly more open to the induction experience. "We'd have to sit down and talk about it, but it's probably not at the top of my list of things to do. But who knows?" Selway explained. Colin, bless him, had a good sense of humor about it all, and is the most open to actually getting on a plane and showing up: "I don't know if everyone else will go. It might be me just doing bass versions of everything like, 'Come on, you know this one!' I'd have to play the bass part to 'Creep' five times."
Hey! You're forgetting someone!
Pssh, like we could possibly forget about Radiohead's golden boy. But funny enough, Yorke held off on disclosing his Hall feelings before the official announcement of the band's induction, only teasing in the past that "I always put my foot in my mouth." Interpret that as you will.
So, how did the band react when they were announced as a Class of 2019 inductee?
All things considered, they were pretty chill and nice about it — if not a bit perplexed. In a statement, they thanked everyone involved in the nomination process and their fellow inductees. (Who, if you recall, are the subgenre-bending Roxy Music, Janet Jackson, Stevie Nicks, the Cure, and Def Leppard.) "The members of Radiohead have been surprised to learn of the band's induction into the Rock & Roll Hall of Fame Class of 2019," the group said. "The band thanks the Hall of Fame voting body and extends congratulations to this year's fellow inductees."
Is anyone … going to show up?
That's an excellent question, and one we have limited answers to at the moment. Yorke has confirmed that he will not be attending due to an overseas philharmonic commitment he could easily work around, but even so, it's doubtful he would've showed up with an open schedule, anyway.
"We've always been very blasé about that stuff. We just think that we just don't quite understand it. We've had it explained to us, so it's cool," he explained in January. "But we don't really understand it as English people. I think our problem is essentially that every awards ceremony in the U.K. stinks. We grew up with the Brits, which is like this sort of drunken car crash that you don't want to get involved with. So, yeah, we don't really know what to make of it." Yorke added that he would've cleared his schedule if he received an Oscar nomination for Best Original Song for his Suspiriawork, but that didn't wind up happening.
As for the Greenwoods, O'Brien, and Selway, they haven't given their own statements in regards to attending or not. (Vulture reached out to the band's representative for clarification, and we'll update if we hear back.)
Who's inducting them?
David Byrne is confirmed. Great choice! A fun piece of trivia is that Radiohead renamed themselves after the Talking Heads song "Radio Head" from their 1986 album, Truer Stories.
And what about their performance?
As Rock Hall custom dictates, no-show or posthumous inductees are matched with a performer to play a few songs in their place — with the basic criteria being that the performer was influenced by or shared a peership with the inductee in question. (Dire Straits was the sole anomaly.) There has been no confirmation of what will happen during Radiohead's allotted stage time besides Byrne's speech. But we will say: Byrne would be a pretty suitable person to perform on the band's behalf, no?
Jeez, that's a lot of uncertainty.
Sorry! There's still time, though. We'll keep you updated.