Talking Heads' David Byrne to Speak at Seattle's MoPOP Conference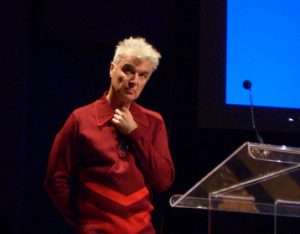 LivePict.com, 2009, via Wikimedia Commons.
Written by Jeremy Gurto
April 20, 2017, will see the beginning of the 16th Annual Pop Conference held at the Museum of Pop Culture (MoPOP) in Seattle, Washington, over 4 days.
As always it will see its mix of pop culture academics and rock music scholars and critics coming together to discuss the finer points of their industry.
Former Talking Head and Nerd-In-Chief of the rock music world, David Byrne, will be the keynote speaker at this year's conference, titled "Sign O' the Times: Music and Politics". Among the dozens of topics to be discussed will be "The All-Star Charity Single, Reconsidered", "Protest Music in History", and "Trap Rap's Crossover into Mainstream Rap". The full list can be found here.
Byrne is set to give his keynote at 4 p.m. on Thursday, April 20. While he is no stranger to giving talks about the more mundane and yet fascinating aspects of his industry (such as giving a TED Talk about How architecture helped music evolve in 2010), he may also talk about his recent foray into injecting his music with a political flavor, at least politics from history.
In 2009 his collaboration with Fatboy Slim, titled "Here Lies Love," about the life of former First Lady of the Philippines, Imelda Marcos, drew very positive reviews. And in March of this year, Byrne's rock musical, "Joan of Arc: Into the Fire," premiered in New York.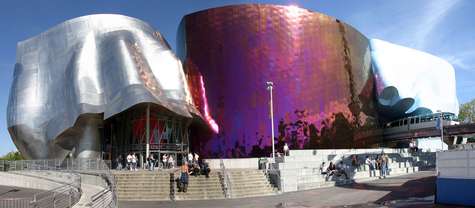 The Museum of Pop Culture in Seattle WA – setting for this year's Pop Conference
The music of Talking Heads was always notably devoid of political views, but Byrne says that with these recent musical projects, he has fully embraced the appeal of telling a story through songs. And in an arguably more divisive political landscape than usual in recent history, are there any contemporary political parallels with the story of Joan of Arc?
"At some point [the audience] ha[s] doubts," says Byrne. "Are we supporting a religious maniac who is leading an army? Are we supporting that in this day and age? Her character becomes more nuanced, less perfect, and the audience becomes conflicted."
While the Pop Conference usually attracts only a few hundred regulars, it is generally agreed by both attendees and organizers that the event ongoing is a powerful and important forum for discussion on the relationship between music and culture.
Particularly with the expected appearance of veteran rock music snobs like Greil Marcus and Robert Christgau (who has placed more of a focus on politics in recent years), the place of music in a political world and politics in the music world have become one and the same, and this will be under the spotlight for the next few days in Seattle.