Cursed Child and Counting & Cracking dominate this year's Helpmann nominations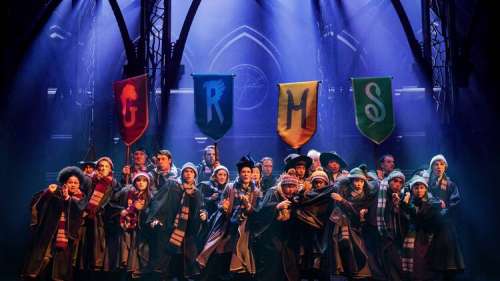 Photograph: Matt Murphy
It's going to be a battle of theatrical marathons at this year's Helpmann Awards, with Melbourne's Harry Potter and the Cursed Child and Sydney's Counting & Cracking tied at eight nominations a piece. They're both up for key awards – including Best Production of a Play – against another show with an epic running time, Sydney Theatre Company's The Harp in the South, which scored six nominations. The other nominees for Best Production of a Play are Nakkiah Lui's Blackie Blackie Brown, Nat Randall's The Second Woman (another marathon, running for 24 hours!) and Rawcus' Song for a Weary Throat.
Despite JK Rowling's West End theatrical juggernaut coming out on top, this is a stellar year for local creative talents and artists, and a significantly more culturally diverse bunch than last year's showing.
In the musical theatre categories, Ursula Yovich's Barbara and the Camp Dogs faces off against Charlie and the Chocolate Factory, a brilliant production of In the Heights that originated at the Hayes Theatre, and Opera Australia's spectacular harbourside staging of West Side Story.
The Helpmanns will be presented in Melbourne this year – after more than a decade in Sydney – across two events on July 14 and 15. See the full list of nominees below.
CONTEMPORARY MUSIC
BEST AUSTRALIAN CONTEMPORARY CONCERT
DARWIN FESTIVAL AND RPM RECORDS AND BAD APPLES MUSIC RPM vs Bad Apples
KYLIE MINOGUE AND FRONTIER TOURING, ROUNDHOUSE ENTERTAINMENT AND MELLEN EVENTS Golden Tour 2019
PAUL KELLY AND FRONTIER TOURING Making Gravy 2018
TIM MINCHIN AND LIVE NATION AUSTRALASIA Back
BEST CONTEMPORARY MUSIC FESTIVAL
CHUGG ENTERTAINMENT AND ROB POTTS ENTERTAINMENT EDGE CMC Rocks 2019
MUSEUM OF OLD AND NEW ART (MONA) MONA FOMA 2019
VIVID LIVE 2018 AND SYDNEY OPERA HOUSE PRESENTS Vivid LIVE 2018
WOMADELAIDE FOUNDATION WOMADelaide 2019
BEST INTERNATIONAL CONTEMPORARY CONCERT
CELINE DION AND FRONTIER TOURING, CONCERTS WEST AND AEG PRESENTS Celine Dion - Live 2018
CHRISTINE AND THE QUEENS AND PERTH FESTIVAL Christine And The Queens
DAVID BYRNE AND FRONTIER TOURING American Utopia Tour 2018
THE KILLERS AND FRONTIER TOURING The Killers 2018