True Stories Of Meeting David Byrne, With Stephen Tobolowsky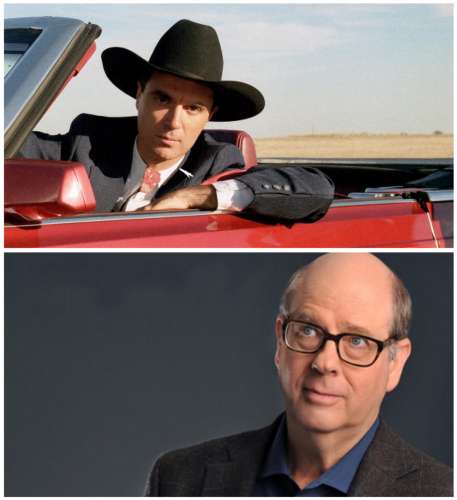 Top: David Bryne in 'True Stories.' Bottom: actor and writer Stephen Tobolowsky
By Nathan Cone
In the early 1980s, actor Stephen Tobolowsky was living in Los Angeles with his girlfriend at the time, Beth Henley. Henley was hot off the success of winning a Pulitzer Prize for her play, "Crimes of the Heart." The play's success drew the attention of Hollywood, including director Jonathan Demme, who was looking for his next project after "Melvin and Howard."
One day, Demme invited Henley and Tobolowsky to a screening at the Academy of Motion Picture Arts & Sciences theater, to see a new documentary he was working on, called "Stop Making Sense."
And that is how Stephen Tobolowsky found himself sitting next to David Byrne of the Talking Heads.
"It was almost an out of body experience," Tobolowsky remembered, speaking by phone. He had never actually heard the band. "To hear that music for the first time… with David sitting next to me. Afterwards… we went out to eat with David and with Jonathan, and all we could do was just scream, basically, in the restaurant about how great the movie was!"
Byrne, however, wanted criticism, and feedback. How was the big suit? What about the staging? The discussion led to another meeting, this time at Byrne's house. He had invited Henley over to collaborate on a project, and after a short time, she called Tobolowsky in as well.
What Tobolowsky found was typical of Byrne, very idiosyncratic.
"There were maybe a hundred-plus drawings on the wall. Pencil sketches, and drawings of frames. No script, just drawings. And David asked, 'Can you turn these pictures into a screenplay?'"
The two stared in silence at the drawings for hours. Finally, Tobolowsky proposed writing an outline based on the pictures, with the idea that he and Henley would write a full screenplay if Byrne felt they were on the right track.
The plot of "True Stories," such as it became, was about a small town in Texas, getting ready to celebrate the state's sesquicentennial.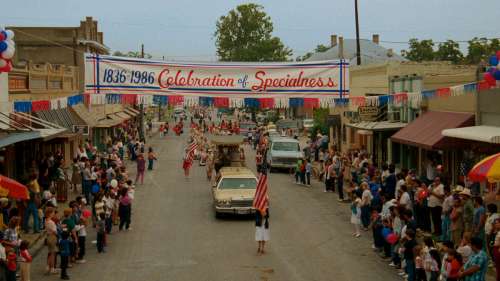 CREDIT COURTESY THE CRITERION COLLECTION
"Right there is a perfect Talking Heads talking point. It is a weird word, 'sesquicentennial.' It sounds like a celebration, [but] nobody knows what the hell it is," Tobolowsky laughed.
The plot was loose enough to let the music of the Talking Heads be the driving force behind the picture.
Remembering more elements of his script, Tobolowsky recalled, "I said you could have the time capsule, you could have the Shriners and the little cars, you can have a parade. You could have a fashion show, a talent show, you could do all these things linked to the sesquicentennial."
The script was finished in a flash. "Something like 19 days," Tobolowsky said.
They delivered it to David Byrne, and that was that.
Months went by, with no word from Byrne.
Eventually, "True Stories" would be made by Byrne, and released in 1986 with a story that bore only the loosest resemblance to Tobolowsky and Henley's script. Maybe a dozen or so lines made it into the final picture, along with the basic sesquicentennial framework. "I think a lot of it was removed for time, and who needs that, and let's get to the next song," Tobolowsky remembered. "And the songs were better than our dialogue or jokes! That goes back to the original idea that the songs were going to be the stars."
Watching "True Stories" today, it looks a little like Byrne took Henley and Tobolowsky's script, metaphorically cut it into pieces and threw it into the air, reassembling the scenes around the songs, and Byrne's own idea of supposing the stories you read in the "Weekly World News" might actually be real. The resulting film is a sweet and loving celebration of ordinary people and the creations they make, however odd they may be.
Tobolowsky agrees.
"If you take a look at [my podcast] 'The Tobolowsky Files,' and all the stuff I've written since then, there is this kind of celebration of mundane events. And if you take a look at Beth's writing, she always has made the ordinary, extraordinary. And after listening to David's new music… he does that same thing, in celebrations of making ordinary events absolutely, stratospherically, cosmically unique. It's amazing that we were all sort of psychically on the same page."
But could there be one other reason why that's so?
A perhaps more hidden story from "True Stories" is how one of the songs was directly inspired by events in Stephen Tobolowsky's life. Back when he was at Southern Methodist University, Tobolowsky discovered he had a unique talent for decoding others. Some might even call it a psychic ability to divine information from complete strangers, friends and family alike. Tobolowsky likened it to hearing "tones" that everyone gives off. Henley took to charging anywhere from 25 cents to a dollar for Tobolowsky to read fellow students' tones. It was the beginning of Tobolowsky's and Henley's relationship.
"Our romance blossomed from this," Tobolowsky said. "And that was all good. But the more I [read tones], the more it intruded into my life, and I couldn't stop it. And it became incredibly creepy and scary, and I had no peace. So I tried to stop it. And I quit doing that."
Tobolowsky told this story to David Byrne during the process of collaborating on "True Stories."
One day, Byrne pulled up next to Tobolowsky on his bicycle, and invited him over to hear a song. That tune was "Radio Head," with its lyrics:
Now you and I have no secrets

Now baby, let me read your mind

I hear everything you're thinking

You can't help the way you sound
That song wound up in the movie, "True Stories," sung by Tito Larriva, with Steve Jordan.
A decade later, the tune lent its name to one of the biggest bands of the 1990s, Radiohead.
Has Stephen Tobolowsky ever met Thom Yorke or any other members of the band?
"No, but I tell ya, it's on the to-do list."
Given the amazing adventures Stephen Tobolowsky has had in his life, it's only a matter of time before that circle is completed.
"True Stories" was recently released on Blu-ray by The Criterion Collection in a package that also includes, for the first time ever, the film's complete soundtrack. David Byrne will be in attendance for a Q&A at two screenings of the film this month, on March 13 at the SXSW Film Festival in Austin, and the following day, March 14, at the Angelika Film Center in Dallas, sponsored by the USA Film Festival. Stephen Tobolowsky can be found online at stephentobolowsky.com. To hear an extended version of his interview, including a story about the time he wrote a song for Willie Nelson, listen in the embedded audio player below.