Watch David Byrne Join Angélique Kidjo For "Once In A Lifetime" At Carnegie Hall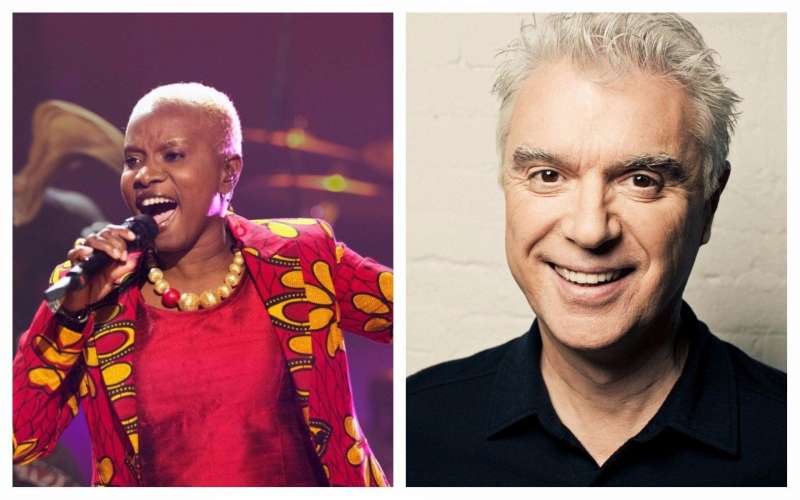 Written by Ming Lee Newcomb
On Friday night, the Grammy-winning Beninese singer Angélique Kidjo hosted a tribute to the Talking Heads' classic album Remain In Light at Carnegie Hall. During her performance, Kidjo worked through the entirety of the 1980 album, and was joined by a number of special guests including Brandon "Taz" Niederauer, the Antibalas Horns, Lionel Loueke, Jason Lindner, Nona Hendryx, Ki Ki Hawkins, the Kuumunity Collaboration Choirand Generation Percu.
However, one special guest stood out among the many who joined her throughout the evening—Mr. David Byrne of the Talking Heads himself. Kidjo and Byrne teamed up for a spirited rendition of "Once In A Lifetime," with the two vocalists switching off verses and coming together for the chorus. In a recently released video which you can check out below, courtesy of A Mandolin Player At Carnegie Hall, you can see both Angélique Kidjo and David Byrne going in on the classic song and clearly having a great time doing so.
The two have known one another for over a decade. As Kidju explained to Playbill ahead of this weekend's Talking Head tribute, "The first time I came to New York to sing, in 1992, David Byrne from Talking Heads came to my show—the first American artist to do so—and we met afterwards." Kidju and Byrne have previously performed together at Carnegie Hall in the past, as both singers sang together at the legendary venue previously in 2004 for a Tibet House Benefit Concert.
In the same Playbill interview, Kidju explained the significance of the Talking Heads in her own life and why she chose to honor Remain In Light on Friday: "In 1988, Talking Heads had recorded an album with some of my African friends from Paris. At that time, I discovered their music and fell in love with the Remain in Light album. [Producer] Brian Eno and Talking Heads understood the magical power of African music, but instead of trying to clone it, they created their own style based on the hypnotic rhythm patterns of Fela Kuti'sAfrobeat. The cryptic lyrics were also resonating with me. Somehow I felt I was hearing, in a strange way, social commentaries on the state of my continent."