Watch David Byrne pay tribute to Radiohead at their induction to the Rock & Roll Hall of Fame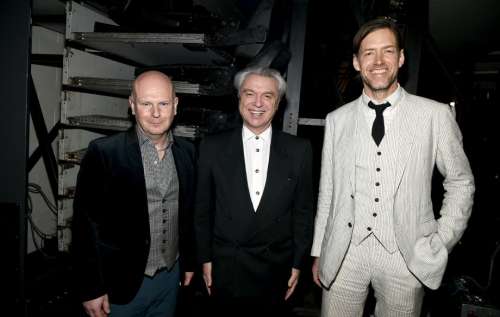 Credit: Theo Wargo/Getty Images
By Elizabeth Aubrey
David Byrne has paid tribute to Radiohead in a speech as he inducted them into the Rock & Roll Hall of Fame yesterday evening.
Radiohead often reference Byrne's Talking Heads as a major influence; they took their name from a song on Talking Heads' 1986 album, 'True Stories' and frontman Thom Yorke was interviewed extensively by Bryne in 2007 for Wired. Jonny Greenwood has also spoken at length about the importance of Talking Heads' music to Radiohead.
In his speech, Byrne said he was "surprised and flattered" that they took their name from one of his songs. He added: "But had to ask myself, "Why that song? That slightly goofy Tex-Mex song? Why that one?" We'll never know."
He went on to say he was a "huge fan" of the group and that they "richly deserve this honour" because of "the quality and constant innovation" of their work and "their innovations in how they release their work…they're creative and smart…a rare and inspiring combination."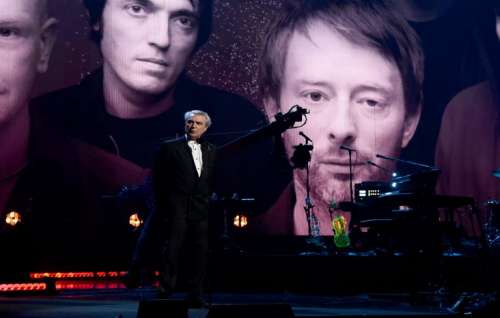 Byrne added: "Here's a tidbit: Radio 1 in the UK refused to play their song 'Creep' because they found it too depressing. But then it started getting played elsewhere all over the world, and, well, the rest…
"And another: Capitol Records felt that what many consider to be their masterpiece, 'OK Computer', was career suicide and adjusted their release and marketing plan accordingly. It eventually went to Number 1 in the UK. 'Paranoid Android,' from that album, was considered the new 'Bohemian Rhapsody,' whatever that means. I'm looking forward to seeing the movie, and seeing who will play Thom."
You can watch Byrne's speech in full here:
Byrne spoke about his love for Radiohead's seminal albums, 'Kid A' and 'In Rainbows', saying he was a fan of both their experimentation and creativity.
He added: "Music that at one point sounded radical and on the edge now felt completely natural…Their last record, 'Moon-Shaped Pool', sounded very cinematic, sounded like a movie in your head. They've both changed our idea of what popular music can be and how it can be released and marketed to us. For those things, I am honoured to induct Radiohead into the Rock and Roll Hall of Fame."
The award was collected by Radiohead's Ed O'Brien and Phillip Selway. Accepting the award, Selway said: "This is a real honor. And it's particularly special that David Byrne has inducted us. As David said, we borrowed a band name from him 30 years ago and luckily for us he hasn't asked for it back yet.
"I'd just like to say a little bit about what being in Radiohead means to me. It can be awkward and challenging sometimes. But I guess that's what kept us all interested for the past three decades. I'm beyond proud of what the five of us have achieved together, and I know that Radiohead wouldn't have become what it is without the five of us."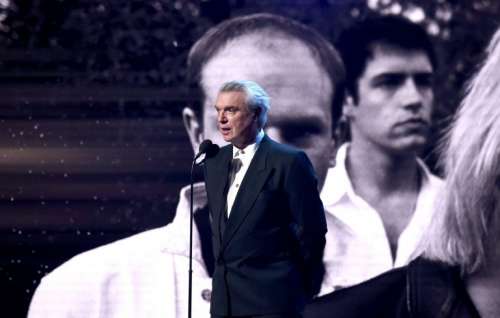 O'Brien added: "I just want to say this is such a beautifully surreal evening for us and it's very far from where we come from. But thank you for inviting us, inducting us into this Hall of Fame. It is a big fucking deal. I wish the others could be here because they would be feeling it.
"…I want to thank [the others] for their integrity, their authenticity, their commitment…I also want to thank them for the musicians they are. That thing when we play together; that collective sound that we make. Some of the nights we have in the rehearsal studio where they're like transcendental moments."
Back in January, frontman Thom Yorke confirmed that he didn't intend to attend the band's induction ceremony for the Rock and Roll Hall of Fame.
In June 2017, Jonny Greenwood also told Rolling Stone that he "didn't care" about Radiohead's possible nomination that year. "Maybe it's a cultural thing that I really don't understand. I mean, from the outside it looks like… it's quite a self-regarding profession anyway. And anything that heightens that just makes me feel even more uncomfortable."