10 Sessions From Grammy-Nominated 'World Cafe' Guests
Via WBUR News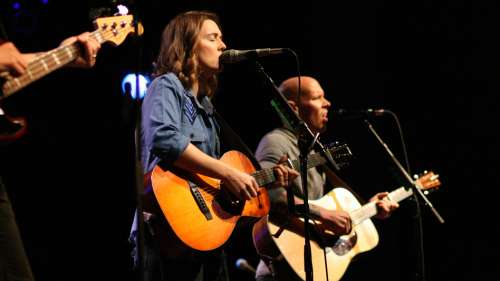 By Bruce Warren and Talia Schlanger
After a year in New York, the 61st Annual Grammy Awards return to Los Angeles, taking place at the Staples Center this weekend on Sunday, Feb. 10. Over the years, World Cafe has had numerous visits from those nominated and those who've won, and last year we were fortunate to have some extraordinary musicians on the show.
2018 saw numerous Grammy nominated artists come through World Cafe for interviews and performances including several musicians up for multiple awards including Americana women we love. This list includes Brandi Carlile, Kacey Musgraves and Margo Price. While we're on the topic of the diverse musical world of Americana, we also had conversations with and performances from John Prine (nominated in the category of Best Americana Album of the Year, and two songs in the Best American Roots song category), and Bettye LaVette, whose recent album, Things Have Changed, features songs originally written by Bob Dylan is nominated for Best Americana Album, and Best Traditional R&B Performance for her version of Dylan's "Don't Fall Apart On Me Tonight."
A few more favorite conversations we had last year included Leon Bridges, who is nominated for several awards, Fantastic Negrito, NPR Music's inaugural Tiny Desk contest winner and singer-songwriter Mary Gauthier, whose album Rifles & Rosary Beads, a collaboration with veterans she met through Austin-based nonprofit SongwritingWith:Soldiers, is up for Best Folk Album.
In the world of alternative and rock, both David Byrne, whose American Utopia earned a nomination for Best Alternative Music Album and St. Vincent, whose Masseduction is nominated in two categories, joined us in the Cafe last year.
Enjoy a refresher lesson on the albums that are nominated this year as you listen to our past sessions from the aforementioned musicians. Congrats to all the 2019 Grammy nominees.
---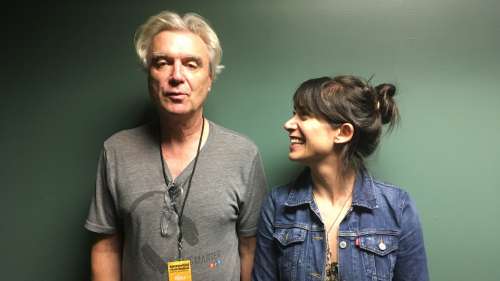 David Byrne (left) with World Cafe Host, Talia Schlanger (right) backstage at the 2018 XPoNential Music Festival. (WXPN)
David Byrne opens his remarkable American Utopia show alone on stage, holding a model of a brain. He points to different parts as he sings the lyrics to "Here": "Here is a region of abundant details / Here is a region that is seldom used / Here is a region that continues living / Even when the other sections are removed."
Our brains do all our thinking, but most of us seldom stop to think about how miraculous the organ truly is. Therein lies Byrne's artistic superpower. He finds wonder in unexpected or forgotten places and holds it up for us to stop and admire. Call him a wonder archaeologist. Read more.