12 Days Of Phishmas 2018: David Byrne Conducts Wide-Ranging Interview With Phish In 1998 [Watch]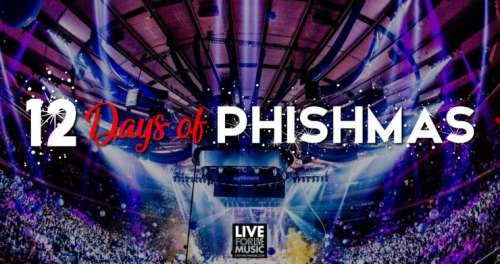 Photo: Jeremy Scott
By Andrew O'Brien
It's that time of year again… In eleven short days, Phish will return to New York's Madison Square Garden for their annual four-night New Year's run. Each year, we like to celebrate the season in the days leading up to Phish at MSG with the 12 Days of Phishmas, a daily series that gives you your Phish fix and helps stoke your excitement in the days leading up to the run. In 2016, we took you back to 12 historic Phish performances at The Garden. In 2017, with the Baker's Dozen barely out of sight in the rearview, we relived the magic and mystery of the band's historic residency.
For years, we've been earmarking some of our favorite Phish interviews, behind-the-scenes footage, and other cool content that we haven't found the right occasion to share with you…until now. For 2018, we've made you a very special Phishmas Advent calendar to help spice up your countdown to showtime. As we approach the start of the run on the 28th, we'll open up one panel a day and reveal a fun surprise inside—a little something sweet and Phishy once a day until the Garden party begins. No peeking! By the time we're finished with the calendar, it will finally be time for the gift we've all been waiting for: Four nights of Phish on their home court at the World's Most Famous Arena.
11 Days Til' Phish: David Byrne Interviews Phish (1998)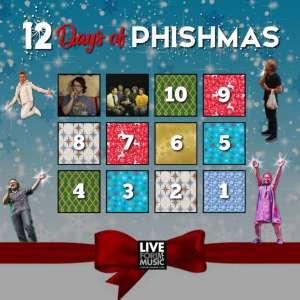 On the second day of Phishmas… David Byrne interviews Phish for PBS's Sessions at West 54th. Yesterday's full-band interview saw the band mess with their eager community access interviewer to great comedic effect. Today's full-band interview, taped on October 20th, 1998, sees the band in a much more sincere state of mind as they speak with one of their most respected musical influences—as you no doubt remember, Phish had covered Talking Heads' Remain In Light for their last Halloween costume set in 1996.
If we're being totally honest, the interview itself doesn't illustrate much that wasn't already known by fans. What makes this clip so interesting is the mutual respect and curiosity that's clearly apparent on both sides of the conversation. The subtext of the often-tense interview speaks volumes. While Byrne's trademark unassuming persona is in full effect, you can tell he's genuinely interested and curious about Phish's unusual approaches to various aspects of their trade. When he asks about the Phish's largely different mindsets with regard to studio records vs. live shows, you can tell he's wondering in context to his own work—after all, Byrne has long been known for his spectacular yet fine-tuned live shows.
The vibe begins to loosen as the interview goes on, and both Byrne and his subjects start to open up a little more freely, from discussions of onstage antics (Byrne: "What's with the trampolines?") to the thought process Phish taps into when covering an album (Trey: "We spent a year in your head"). You can even hear Jon Fishman lamenting that they were just getting warmed up as an off-camera producer tells them to wrap things up.
Watch the clip to learn more about the onstage spiritual experience that inspired Mike to change his college major to religion, the hubristic origins of Phish's Halloween tradition, why Tom Marshall maintaining his 9-5 job has been crucial to his creative output with Phish, the medical perils of being a vacuum virtuoso, and more.
David Byrne Interviews Phish (1998)
[Video: Surface Dweller]
We'll be back tomorrow to open the third panel on our Phishmas 2018 Advent calendar. What other Phishmas surprises are in store? You'll just have to wait and see…
In the meantime, you can go back through the previous Phishmas surprises:
On the first day of Phishmas… The Big Daddy Show
On the second day of Phishmas… David Byrne interviews Phish