A SURVEY OF DAVID BYRNE'S FASCINATION WITH LIVE PERFORMANCE
Via Discogs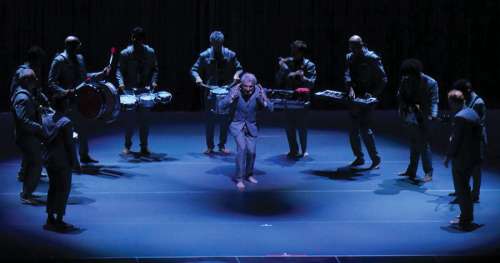 By Sean Cannon
The Best Live Show Of All Time – NME. That's a quote from the famed British music mag about David Byrne's 144-date tour in support of March's American Utopia. As of this week though, it's also the exact title of a six-song EP recorded during that tour. Byrne just released a deluxe edition of American Utopia, which includes the superbly-named EP.
As it happens, the quote and the title aren't simply bluster. Byrne's latest tour removed everything from the floor, including cables, amps, stands — and even the drum set. In its place, several percussionists carried drums, in the style of a marching band. Just like those high school ensembles, Byrne and the group had elaborate choreography throughout the entire set.
The live show was universally praised and heralded as something next level, with The Atlantic calling it a "reinvention of the rock concert." Byrne's lighting designer, Rob Sinclair, admitted to Monocle Magazine, "I didn't realise quite how revolutionary [it was] until the show opened." Then, of course, there's the NME quote.
While you can't see the striking visuals on this latest live recording, the energy is palpable in the music. The EP also brings to mind Byrne's longtime fascination with the way live performance affects how we receive music. As he said in an interview with himself decades ago, "Music is very physical, and often the body understands it before the head." This inspired us to look back at his history with the intersection of songwriting and live performance by revisiting a few highlights from his career.
THE CATHERINE WHEEL
DAVID BYRNE
(1981)
This is a studio album, but it's uniquely tied to live performance. Before the Talking Heads' break up, and before the band fully broke into the mainstream, Byrne released one of his best solo albums. He didn't write and release it for his own ends, though. It was at the behest of famed dancer and choreographer Twyla Tharp. She commissioned Byrne to compose a score for her second Broadway project, The Catherine Wheel.
The album features stout session players like Yogi Horton and occasional Talking Heads sideman Adrian Belew. In addition to the abridged album and full score releases, the piece was broadcast in its entirety on PBS.
STOP MAKING SENSE
TALKING HEADS
(1984)
While 1983's Remain In Light pushed Talking Heads to new heights, it was Jonathan Demme's iconic concert film the following year that made them a bonafide cultural phenomenon. The film's soundtrack, on the other hand, was less celebrated. Containing only nine songs, it jumbles Byrne's meticulously planned stage show and is missing more than a few key moments.
That said, an expanded edition was released in 1999 that tried to right those wrongs. There's no way to replicate the film's charms in audio form, but the 1999 version does as good a job as possible. On songs like Once In A Lifetime and Take Me To The River, you can hear the band at the height of their powers.
LIVE FROM AUSTIN, TX
DAVID BYRNE
(2007)
There's nothing revolutionary about this album. It is beautiful, though. In 2001, Byrne was supporting Look into the Eyeball when he appeared on the venerated live showcase Austin City Limits. Six years later, the set was released as Live From Austin, TX. Instead of focusing exclusively on the latest album, Byrne weaves tracks from his entire catalog into the show.
The most compelling facet of the performance is the way he reworks some of those hits, gently massaging them into world music-informed numbers that seem both familiar and foreign at the same time. This is heightened by the presence of a string sextet for most of the evening. Oh, and the cover of Whitney Houston's I Wanna Dance with Somebody is a pretty epic closer!
LIVE AT CARNEGIE HALL
CAETANO VELOSO AND DAVID BYRNE
(2012)
In 2004, Carnegie Hall invited Brazilian artist Caetano Veloso to curate a performance that would be broadcast via NPR. Veloso asked Byrne, his longtime friend and collaborator, to come along for the ride. The result was a solo set from each, in addition to collaborative material. The voice and demeanor of both performers couldn't be more different, yet the resulting quirkiness works throughout. It was eventually released as an album in 2012.
In interviews after the event, Byrne admitted that he was nervous about the unique set. Whereas his performances usually appear considered, tight, and well-planned, you can hear occasional apprehension in his delivery. The uncharacteristic nature of that vulnerability adds a certain intrigue.
HERE LIES LOVE: ORIGINAL CAST RECORDING
DAVID BYRNE AND FATBOY SLIM
(2014)
As with the first entry in this list, Here Lies Love isn't properly a live recording. Byrne and Fatboy developed a concept album about the life of Filipino first lady Imelda Marcos and her nanny. The original version featured a bevy of memorable performances by female vocalists including Cyndi Lauper, Santigold, Florence Welch, Sharon Jones, and Tori Amos, among others. This led to a short off-Broadway run for the multimedia spectacular and the attendant original cast recording, which is lively and delightful.
And just for kicks, here is an amazing William Onyeabor cover from The Tonight Show with an all-star cast: