Best concerts of 2018: pop, rock, rap and country
By Scott Mervis
You can't count wins, losses and championships in music like you can in sports, but if you could, the 2018 concert year would have been Super Bowl, World Series and Stanley Cup seasons wrapped in one.
We've never seen a year quite like it.
The list of Hall of Famers was staggering, from Elton John to Paul Simon to Fleetwood Mac to The Eagles. Van Morrison and Radiohead turned up for the first time in decades. Kendrick Lamar and Travis Scott represented hip-hop and Slayer and Metallica represented metal with massive shows.
The stadiums were filled four times, with Taylor Swift, Ed Sheeran, Luke Bryan and, of course, Kenny Chesney, who, just to give you an idea of how busy it was, played on the same June night as Jack White and Journey/Def Leppard, and the same weekend as Justin Timberlake, the Dave Matthews Band and the Three Rivers Arts Festival.
On the club level, the volume was ridiculous, with all of our promoters working overtime. There were such bright new stars as Lucy Dacus, Hop Along, Snail Mail, Courtney Barnett and Nathaniel Rateliff and the Night Sweats and grizzled vets like Jimmie Dale Gilmore/Dave Allen, Steve Earle and Alice Cooper.
Looking back, we would probably do it all over again.
Concert of the Year
Paul Simon
Paul Simon has been at the top of this list before — back in 1991 when he brought the Born at the Right Time Tour to the Civic Arena. Somehow, all these years later, with the legendary singer-songwriter at 76, this was even better. The set list, obviously, was magnificent, and the fact that it was a farewell tour added an immeasurable layer of emotion. What set it apart though was the musicianship, perhaps the best I've ever seen on a stage, with New York's yMusic chamber group seamlessly integrated into his already red-hot worldbeat ensemble.
Best production
David Byrne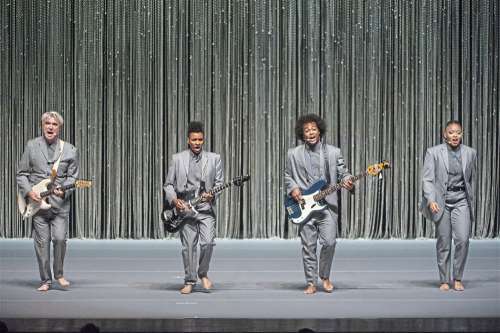 Stephanie Strasburg/Post-Gazette
Leave it to David Byrne to reinvent the wheel. The art-punk icon arrived at the Benedum on the American Utopia Tour with a production unlike any we've ever seen before. No cords, no amps, no kits, no tethers. Just the former Talking Head and his 11 backing musicians, in front of a gorgeous metallic curtain, playing what they could carry — guitar, bass, keyboard and an endless array of percussive contraptions.
Best package
Outlaw Music Festival
Van Morrison, playing his first Pittsburgh show in a whopping 45 years, would have been enough. Although his jazzy, understated set may have been lost to some of the people on the hill, he was so soulful and, amazingly, so true to the sound on those original recordings. Now add in the Willie Nelson and his boys Lukas and Micah with the bands, Sturgill Simpson, Brandi Carlile and Pittsburgh's own The Commonheart.
Best country show
Miranda Lambert
There may be some great young female stars on the country scene, but none of them touch Ms. Lambert, who, with a powerhouse voice and charisma to burn, left no question that she is the reigning queen of country. Fittingly, she also saluted the Queen of Soul, Aretha Franklin, who had died two days prior. The finale was a big ol' jam with the talented Little Big Town.
Best rap show
Travis Scott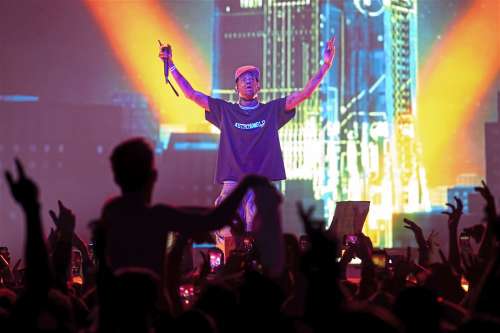 Stephanie Strasburg/Post-Gazette
With his Astroworld tour, complete with massive roller-coaster. "Scott reinvented his live performance like he's reinvented his sound over three official albums, each more of a commercial success than the last and each working to cultivate a fan base that comes from all corners of rap fandom," according to PG writer Julian Routh.
Best metal show
Ghost
Slayer was its usual awesome self, but for pure, tongue-in-cheek Satanic entertainment, it was hard to top Tobias Forge and band of his Nameless Ghouls graduating to theater level, at the Benedum, before the inevitable arena tours. As Cardinal Copia, Forge added Vaudevillian flair to Ghost's rousing anthems that owe more to Blue Oyster Cult than Sabbath or Priest.
Best punk show
Punk in Drublic
Bad Religion was super serious, going about its business of playing its seminal album "Suffer" front to back at Highmark Stadium. NOFX was super goofy, making fun of itself and everyone else while bouncing through songs like "Don't Call Me White" and "Eat the Meek." Fat Mike ended up in the hospital with a slashed hand and then sabotaged the tour — that also included Mad Caddies, The Interrupters and Bad Cop/Bad Cop — with an ill-conceived tweet about the Vegas shooting.
Best classic rock show
Blues & Bayous Tour
So many great ones: Alice Cooper, Fleetwood Mac, Steve Miller/Peter Frampton, Chicago/REO Speedwagon, Kansas. An hour away, in Youngstown, Ohio, a youthful John Fogerty and ZZ Top tore it up at the Covelli Centre in a show that was highlighted by Fogerty and Billy Gibbons in a hot guitar exchange.
Best pop spectacle
Taylor Swift
It took 80 trucks to haul the 110-foot tall main stage, two sizable satellite stages and the various snake props for the "Reputation" tour at Heinz Field. All that aside, the megastar from Reading, Pa., who turns 29 on Thursday, demonstrated that there are few performers more natural on a stage and more connected with her fans.
Best free shows
Valerie June/Mavis Staples
The Three Rivers Arts Festival held off on confirming the opening night act and then landed Ms. Staples, who was up against Justin Timberlake and Dave Matthews Band that night. It was an easy choice for me and, as great as she was opening for Dylan the previous year, she was even better at Point State Park: a gospel/soul dynamo. Later in the festival, it was Memphis' June, proving herself once again to be an otherworldly talent and a joy as a person and performer.
Best Americana show
The Mavericks
It took The Mavericks three tries over two years to play a full show here: Hartwood Acres was rained out midstream and the big makeup show for the Three Rivers Arts Festival this summer found them stranded in Chicago. Raul Malo and company realized that and gave us a stellar performance at the Byham, starting with the "Hey Merry Christmas!" album and moving on to an ecstatic run through their classic material, complete with a version of "Every Little Thing About You" that may have been the single greatest song performance of the year.
Best reunion
Sweetheart of the Rodeo
What a pleasure to hear the harmonies of The Byrds, just the way they sounded in the '60s. Roger McGuinn and Chris Hillman, reuniting to celebrate the 50th anniversary of the seminal 1968 country-rock album "Sweetheart of the Rodeo," were in vintage form and could not have done better than to enlist Marty Stuart and the Superlatives, whose frontman practically stole the show.
Best of Pittsburgh
The Rex Waltz
How many cities, let's say the size of Pittsburgh, could put together the right pieces to present "The Last Waltz" concert in its entirety? How do you even pull off replicating the sound of The Band? WDVE morning man and keyboardist Randy Baumann was the mastermind of this Ramble at the Rex Theater that featured standout performances by Clinton Clegg, Mike Minda, Joe Grushecky, Liz Berlin, Paul Luc and many more. Let's hope it's a new Thanksgiving time tradition.
Best of the rest
Radiohead, St. Vincent, Jack White, Kendrick Lamar, Courtney Barnett, Jason Isbell, Weezer/Pixies, The Flaming Lips, Father John Misty, Alice Cooper, Elton John, Steely Dan, Primus, Blue Oyster Cult, Smashing Pumpkins, Foo Fighters (actually, no, Dave Grohl talked too much).