David Byrne, Gabriel Kahane, John Adams Make NPR's List of the Best Songs of 2018
Via Nonesuch Records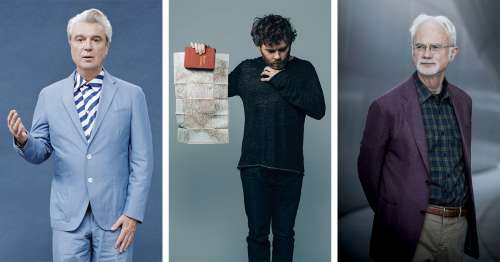 NPR has published its list of the 100 Best Songs of 2018, and among them are songs from three Nonesuch Records albums: David Byrne's American Utopia, Gabriel Kahane's Book of Travelers, and John Adams's Doctor Atomic.
David Byrne's song "I Dance Like This" starts the list off with praise from Bob Boilen, who writes: "The song is from American Utopia: An album based around a set of tracks by Brian Eno, it's David Byrne's best solo release in years, and its touring incarnation might just have been the most original stage show of 2018."
Gabriel Kahane's song "November" is on the NPR best-of-2018 list at No. 33. "'November' is the first movement on Book of Travelers, a poignant reflection on the ties that still bind us, politics be damned," writes NPR's Nate Chinen. Book of Travelers, Kahane's Nonesuch debut album, is a musical travelogue about the looping railway journey across the US he embarked upon the day after the 2016 US election and the people he met along the way. "He carries out his project with the same generosity of spirit as Walt Whitman," says Chinen, "though his empathy runs a bit more pensive and less gregarious."
Gerald Finley's performance of "Batter My Heart," from the Nonesuch release of John Adams's opera Doctor Atomic is at No. 25 on the best-of list. "At the heart of John Adams' vital and gripping 2005 opera Doctor Atomic, about the making of the atomic bomb, is this haunting, tautly gorgeous aria," writes NPR's Anastasia Tsioulcas. "Finley delivers the aria with urgency and poignancy; he's a clarion voice sailing over the turbulent rumblings of the orchestra, the bite of each of his consonants making clear exactly just how much lies at stake ... [T]he punch comes straight to the gut when you hear it amidst the full opera."