David Byrne on the live EP he's named after an NME review quote
Via NME Magazine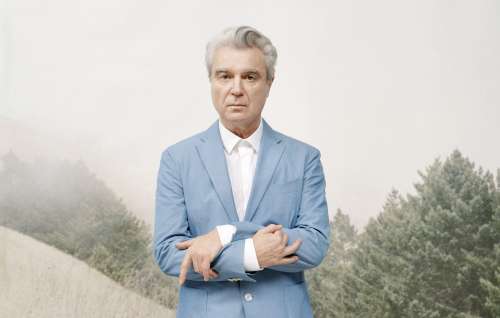 By Dan Stubbs
Back in June, NME's Tom Connick caught Scottish-American art-pop icon David Byrne and his 12-piece band performing his American Utopia tour in Oxford, and returned to the office proclaiming he'd stared into the bright light of genius. In his review, Connick proclaimed the theatrical performance a masterpiece, concluding it "may just be the best live show of all time."
More of us went to see the show. More of us were completely blown away. Here was a performance that captured 2018's zeitgeist of inclusivity, diversity, positivity, alienation and paranoia, with a setlist comprising cuts from Byrne's terrific 'American Utopia' album alongside a generous selection of Talking Heads' greatest tracks. The show redefined the concept of a live musical performance, stripping the stage of amps, leads and equipment and allowing the performers to roam free with their instruments. It was a total joy to watch, and, as it wended its way around the globe, it later returned to larger venues around the country as a true word-of-mouth hit.
At some point, our review caught the attention of Byrne himself, who was either so chuffed or so amused by its hyperbolic frothiness that he decided to name his new release… wait for it…
The '"…The Best Live Show of All Time" — NME' EP.
Here's the cover. It really is called the '"…The Best Live Show of All Time" — NME' EP.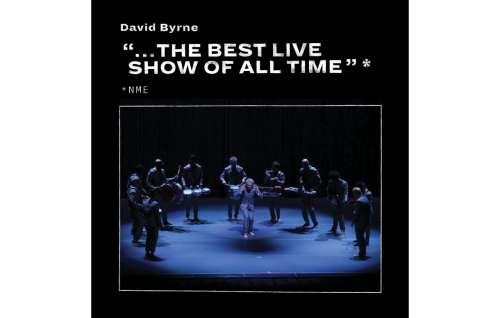 Comprising six live tracks from Byrne's American Utopia run, the EP celebrates the end of the 144-date, career-defining tour. You can hear the EP today on streaming services, buy it separately on CD and as part of 'American Utopia (Deluxe Edition)', a repackaged version of the album on Todomundo/Nonesuch records.
In a statement, Byrne says, "An EP of live recordings from THE BEST LIVE SHOW OF ALL TIME! Well, that's what the British music magazine New Musical Express said… The tour has just come to an end; we played our final show in Adelaide on November 25. The band sounds great and Pete Keppler did an amazing job on the mixes (and our live mix, if you have happened to catch the show in your hometown throughout the year)."
To mark the occasion, Byrne answered a bunch of questions for us over email (and ignored a couple too – when we inevitably asked about whether Talking Heads will ever play together again – fair enough – and whether he'll be playing UK festivals next year. Make of the latter what you will).
You'd said you'd considered not playing live again. Did the riotous reaction to your music – both the 'American Utopia' songs and your back catalogue – surprise you?
David Byrne: "Did I say that? I knew that there was increased public demand for a live show – my booking agent, of course, told me so. He said I 'was having a Leonard Cohen moment' – that hope of a bit of revenue allowed me to dream bigger, to realise an idea I'd had that previously I couldn't afford to execute.
"Would an audience like the results? Impossible to predict. A well-known film director told me when he saw the beginning of the show he thought, 'Oh, it's going to be like this? This is VERY pretentious'. (He actually loved the show and thought the beginning was a cool misdirection). When we started touring the show I could sense that audiences were trying to figure out by the second or third number, 'Is this what it is? Do I like it?' By the fourth number it seemed they'd decided they did like it, as well as being pleased at an artist respecting them enough to offer them something entirely new."
One of the most impressive parts of the 'American Utopia' tour was how it felt both highly choreographed but never stiff. How much room for improvisation was there? Do you prefer working to a strict script?
"Ahhh, this question has come up before. I too have seen shows that were overly choreographed or staged and the humanity got drained out. But I think it's a mistake to use some sad examples to assume that all staging and choreography is wrong and dehumanises a performance. We don't expect a play or film to be improvised (though some directors encourage that), rather we expect them to stick to the script as that is what tells the story we have paid to hear and see. It's a balance then – never lose sight of the humanity and life, but use staging etc to actually bring out more levels and depth in the material. Lastly, the choreography we do is accessible – except for a few of us, the rest don't do anything an ordinary person couldn't do. That helps it be relatable I think."
We're seeing a trend towards theatrical stage shows, notably yours, Christine & The Queens, St Vincent. Why do you think this is happening now? Technology? The collapse of traditional record sales?
"I can't speak for others – though of course I know Annie [St Vincent] Clark a bit – but for myself there are two reasons. Firstly, contemporary audiences, used to watching on screens, actually long for the opposite – visceral experiences. We sense that desire and respond as best we can. Secondly, in smaller venues – intimate theatres and clubs – the drama might be discernible in our faces and interaction. As halls get larger some of that gets lost and we use other means to amplify what we see as the richness in the songs. After being on this tour for a while a bandmember said to me, 'I can't imagine going to a show where the musicians all stand still anymore.'"
What inspired you to end the 'American Utopia' tour with your cover of Janelle Monae's politically-charged 'Hell You Talmbout'? Did you have any concerns, as a white man, about performing it?
"Ha, I wrote to Janelle asking the same thing. Her response was encouraging – she says the song is for everyone. Without her thumbs up I wouldn't have done it – and not sure I would have done it with a band less diverse than we are."
That song itself is a comment on police brutality against black Americans. How do you think that conversation has progressed in 2018, if at all?
"Oh my, we were adding and updating the song as the tour went on. In Brazil of course we added Marielle Franco and others; in the US we added Botham Shem Jean. We have a long way to go, and I include myself in that 'we'"
Do you feel as if the 'American Utopia' tour might have the same legacy as Talking Heads' hugely influential 'Stop Making Sense' tour?
"No idea… but I've heard people say that."
Where do you go from here? Do you feel as if you can put on a show as ambitious as this again?
"Well, as someone wrote regarding this show, there doesn't seem to be an age limit on innovation, so who knows?"
Where can we get one of the grey suits?
"We have plans for those – ours were specially adapted Kenzo suits."
Did anyone catch any nasty foot infections all running around barefoot every night?!
"No foot infections or serious injuries. Maybe we were lucky."
The 'American Utopia' run has been picked out by plenty of people (and many of us here at NME) as the year's best live show, but what was the best show you saw this year?
"I haven't seen as many as I usually would – performing doesn't give one too many nights off. I saw Janelle Monae in Austin: amazing. Young Fathers at a festival: great live show. My own performance joining Choir! Choir Choir!. Beyonce's video at Coachella. The Balkan [Zlatne Uste] Golden Fest in Brooklyn…"
We're chuffed you used our quote as your album title but, er, what made you leave out the 'may just be' in 'may just be the best live show ever'?!
"He he."
Finally, what's next for you? There's talk of the show having a Broadway/West End residency. Is that on the cards?
"We're looking into it."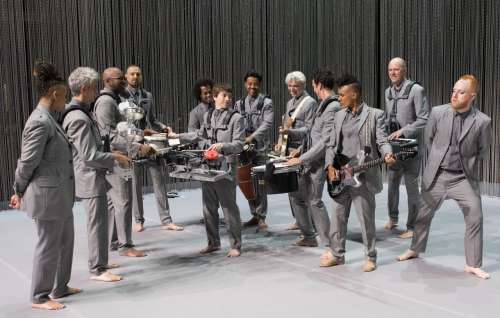 "The Best Live Show of All Time" —NME tracklisting is:
'I Zimbra' (Live from Kings Theatre, September 2018)
'Every Day Is A Miracle' (Live from Kings Theatre, September 2018)
'Everybody's Coming To My House' (Live from Kings Theatre, September 2018)
'This Must Be The Place (Naïve Melody)' (Live from Kings Theatre, September 2018)
'Dog's Mind' (Live from Kings Theatre, September 2018)
'Toe Jam' (Live from Kings Theatre, September 2018)