New Blu-ray Releases: 'Venom', '2001', 'The Predator', 'Starman', 'True Stories'
Via Slash Film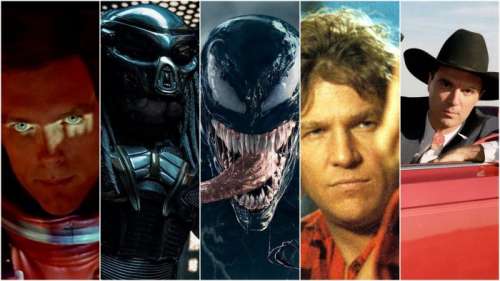 By Chris Evangelista
(Welcome to Not Dead Yet, a feature dedicated to new Blu-ray releases and what special features you should be excited about. Because yes, some of us still like to own physical copies of our movies.)
Welcome to the last Blu-ray review round-up of 2018. We did it, everyone! Congratulations! As we close out this hell-year, some new Blu-ray releases await you – some good, some not so good, but all worth checking out in some capacity. This is an usually sci-fi heavy Blu-ray round-up – all but one film here fits into the science fiction genre. I didn't plan it this way, folks. That's just how it worked out. Below, you'll find Venom, The Predator, and more. So take a gander, enjoy, and I'll see you in 2019.
Here are the new Blu-ray releases and their special features you should check out this week.
True Stories
Talking Heads frontman David Byrne directed only one movie in his career: the quirky, unique 1986 comedy True Stories. The film is a series of vignettes that follow Byrne around the fictional town of Virgil, Texas. There, he introduces us to all sorts of oddballs, most notably a clean room technician looking for love, played by a young John Goodman. Even though this is Byrne's only directorial effort, you can see how ahead of his time he was here. In True Stories, you can see the roots of the films of Wes Anderson, Paul Thomas Anderson, and more. Blending offbeat scenes with strange musical numbers, True Stories is an absolute delight. I only wish Byrne had made a few more films like this, but the fact that this is his one and only movie makes it extra special.
Special Features to Note:
A lengthy (just over an hour long) making-of featurette takes you through nearly ever step of the film, from conception to execution. Byrne reveals that he loved directing, because he got to build a world – which is more than he gets to do when writing a song. He goes on to note that he didn't start True Stories off with an actual story. Instead, he created several drawings – essentially storyboards – and tacked them up to a wall. Then he would invite cinematographers over to look at the drawings, and ask their opinions on them. Byrne didn't want to tie his different narratives together – he wanted them to mostly stand on their own. To get this just right, he reached out to Joan Tewkesbury, writer of Robert Altman's Nashville, which also features several different storylines. Twekesbury didn't want to write a script for him, but she did give him some advice. Specifically, she told Byrne that he didn't need a narrative connection for his stories – he needed an emotional connection. Byrne took it from there, co-writing the script with Stephen Tobolowsky and Beth Henley.
Special Features Include:
New, restored 4K digital transfer, supervised by director David Byrne and cinematogra­pher Ed Lachman, with 5.1 surround DTS-HD Master Audio soundtrack, supervised by Byrne, on the Blu-ray
New documentary about the film's production, featuring Byrne, Lachman, screenwriter Stephen Tobolowsky, executive producer Edward Pressman, coproducer Karen Murphy, fashion-show costume designer Adelle Lutz, casting director Victoria Thomas, consultant Christina Patoski, actor Jo Harvey Allen, and artist and songwriter Terry Allen
CD containing the film's complete soundtrack, compiled here for the first time (Blu-ray only)
Real Life (1986), a short documentary by Pamela Yates and Newton Thomas Sigel made on the set of the film
No Time to Look Back, a new homage to Virgil, Texas, the fictional town where True Stories is set
New documentary about designer Tibor Kalman and his influence on Byrne and work on the film, featuring Byrne and artist Maira Kalman, Tibor's widow
Deleted scenes
Trailer
PLUS: Essays by critic Rebecca Bengal and journalist and author Joe Nick Patoski, along with, for the Blu-ray edition, an essay by Byrne; a 1986 piece by actor Spalding Gray on the film's production; and a selection of production photography, along with Byrne's tabloid clippings and writing about the film's visual motifs