TRUE STORIES Criterion Blu-ray Review
Via Film Pulse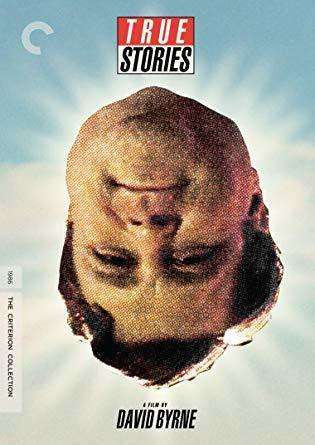 By Adam Patterson
9
Film Pulse Score
Blu-ray Release Date: November 27, 2018
Director: David Byrne
MPAA Rating: PG
Run Time: 89 Minutes
Purchase: Amazon [affiliate link]
This product was provided by Criterion for the purpose of this review. All opinions are our own.
David Byrne was mostly known for his role as the frontman in the legendary rock group The Talking Heads, but in 1986 he embarked on a new adventure in the world of film, setting out to direct a feature. With a wall of storyboards but no discernable narrative in mind, he employed the help of Stephen Tobolowsky and Beth Henley, who developed a script, taking Byrne's striking ideas and translating them into words.
What we're given is True Stories, a delightful audio-visual feast that perfectly carves out a slice of Americana and serves it with a side of whimsy and an undeniable charm. Byrne acts as the narrator, a wanderer driving a red convertible who imparts his Texan wisdom while floating into the lives of a cast of colorful characters, all set within the backdrop of a Texas suburb during the tech boom of the '80s.
Ripped from the headlines of gossip rags, True Stories is a colorful series of interconnected vignettes, celebrating the odd and peculiar facets of life, emploring us to slow down and take note of the wonderful little details in our world to which we might otherwise pay no mind. Propelled by an eclectic and ever-present groove, the film is ostensibly a musical, with each song fitting perfectly into the moment in which it exists, a highlight being Annie McEnroe's rendition of "Dream Operator" during the gloriously odd fashion-show sequence.
True Stories has now officially received the Criterion treatment, and deservedly so, with a new and gorgeous 4K restoration. This director-approved Blu-ray is loaded with features and, perhaps most notably, contains an audio CD with "Dream Operator" and others that are available for the first time.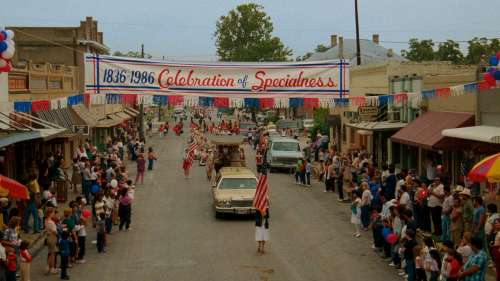 Bonus supplements include a fascinating making-of documentary featuring Byrne alongside most of the cast and crew, though John Goodman is sadly not present. Also included is a short documentary created during filming in 1986; a feature on the fictional town of Virgil, Texas, where the film took place, and what the various locations look like now; and a new documentary about designer Tibor Kalman and his influence on the film. In addition, there are deleted scenes and the film's trailer.
One of the more interesting aspects of this Blu-ray set is the booklet of essays contained within. This is a fairly standard feature in Criterion Collection releases, but in this case, it's presented as a small newspaper, complete with articles, headlines and stills from the movie, paying homage to the tabloid stylings of the movie.
True Stories is a film that's been on my watch list for entirely too long, but I'm glad I waited until now to finally watch it, given that this is certainly the best way to view what I consider to be a brilliant film that delivers a hypnotic, yet joyous experience of audio-visual bliss.
True Stories Blu-ray review
Written by: Adam Patterson
Date Published: 12/12/2018
9 / 10 stars