6 Music Celebrates David Byrne
Via BBC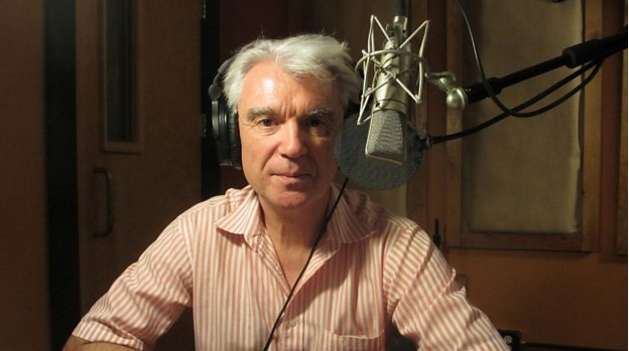 This August, as he returns to the UK to curate Southbank Centre's Meltdown festival, BBC Radio 6 Music celebrates David Byrne with a series of programmes featuring the musician and songwriter. He'll be co-presenting with Lauren Laverne, interviewed by Gilles Peterson and, making his debut as a 6 Music presenter, he will be presenting his own radio show, a two-hour special on Sunday 23 August.
On Friday 21 August (10am-1pm), Lauren Laverne broadcasts her show live from the Southbank Centre during the festival. She'll be speaking to some of the acts performing and will be joined by a very special co-presenter, David Byrne.
He'll be chatting about how he brought together the line-up, which includes artists such as Anna Calvi, Matthew Herbert, and Atomic Bomb - the musical celebration of Nigerian musician William Onyeabor. Plus Lauren will take a look at projects taking place across the event, including a visit to David Byrne's festival library. Throughout his career, he has compiled a fascinating collection of music books and, for the duration of the festival, the Saison Poetry Library, Royal Festival Hall, is housing all the titles in their reading lounge – a collection of every single book on music that David Byrne owns, over 250 volumes from around the world, for visitors to read and borrow to get an insight into the books on music that have shaped David's thoughts and approach to music.
Lauren Laverne says: "What a privilege to have the great David Byrne co-present my 6 Music show at the Southbank Centre. As he is curating Meltdown, who better to convey to our audience the meaning behind the line-up of talent and performances this year?"
Paul Rodgers, Head of Programmes for 6 Music, says: "It's terrific for 6 Music to be able to celebrate the legacy and impact of such an important musical force as David Byrne. We are delighted he is making a show for 6 Music as his Playlists are fascinating. I'm sure listeners will love his appearance on the Station, either live on Sunday 23 August or by downloading via the iPlayer Radio App."
On Saturday 22 August, David will be in conversation with Gilles Peterson (3-6pm) who'll be chatting to him about his vast record collection, his Luaka Bop record label and the role of being a curator. Gilles' weekly show is one which joins the musical dots between soul, hip-hop, afro, Latin, electronica, jazz and beyond so this is sure to be a fantastic interview which knows no musical bounds.
Gilles Peterson says: "David Byrne is a legend who has consistently produced some of the most exciting and cutting edge music of the last 40 years. I can't wait to talk to him about his unique ideas and vision."
And, making his debut as a 6 Music presenter, on Sunday 23 August (4-6pm) he will be hosting his very own show - recorded recently in his home city of New York – in which he selects his personal music choices from around the globe, from the Spanish flamenco sounds of Enrique Morente, to Nigerian funk and synth pioneer William Onyeabor via Paris with Benjamin Clementine, with music from David Longstreth's Dirty Projectors whom he says is one of his favourite artists ever, plus a Hot Chip Track 'One Life Stand' which he talks about listening and singing along to on repeat whilst cycling along Westside by the river on his way to work!
In the programme, called David Byrne On 6 Music, he says: "I'm curating this show for 6 Music, I'm curating Meltdown. Curating is maybe an obnoxious word, it's overused, or we think it's overused. But there's a certain truth to it and the question is am I better than an algorithm or am I not? My place is to maybe give you some things you like and then some things that may surprise you and you've never heard before.
"But it's a lot of fun when you do these kind of things you can introduce music and people will give you the benefit of the doubt and give it a listen which is a little bit of what's it's about."
Fans will also be able to enjoy a David Byrne playlist with collaborations and deep cuts from his catalogue curated by the 6 Music presenters on BBC Playlister at www.bbc.co.uk/music/playlister.
Later on Sunday 23 August, Stuart Maconie presents a Freak Zone special (8-10pm) devoted to David Byrne's pioneering album, My Life In The Bush Of Ghosts. Written and produced in collaboration with Brian Eno in 1981, Bush of Ghosts combined African rhythms, electronic music and is one of the first examples of prolific use samples in music. Widely referred to as one of the best albums of the 1980s, Stuart re-visits the cultural circumstances under which it was made and evaluates the critical response verses audience reactions. The Freak Zone is the show in which the music selections take listeners down a strange, perhaps surprising path, so expect anything, assume nothing! Consistently unearthing hidden gems of popular music's past, present and future the Freak Zone ignites unexpected nostalgia, aids the discovery of eye-opening new genres and offers inspirational additions to your record collection. And '6 Music Celebrates David Byrne' will also feature related concert and documentary programming from the BBC Archive.
David Byrne is well known as the musician who co-founded the group Talking Heads (1976–88). During his time with the group and after he has released nine studio albums and worked on multiple other projects, including collaborations with Brian Eno, Twyla Tharp, Robert Wilson, and Jonathan Demme, amongst others. He also founded the highly respected record label Luaka Bop. Acclaimed by critics and audiences alike, recognition of Byrne's various works include Obies, Drama Desk, Lortel and Evening Standard awards for his musical Here Lies Love, an Oscar, Grammy and Golden Globe for the soundtrack to Bertolucci's The Last Emperor, and induction into the Rock and Roll Hall of Fame with Talking Heads.
Byrne has published and exhibited visual art since his college days, including photography, filmmaking and writing. His most recent books include the best-selling Bicycle Diaries and How Music Works. He lives in New York City. Byrne curates this year's Meltdown festival which offers fans unique insight into artists and ideas that influence and inspire Byrne today. He follows in the footsteps of previous directors including Jarvis Cocker, Patti Smith, David Bowie, Yoko Ono, Ray Davies, and Ornette Coleman.
Recent music highlights on 6 Music includes coverage of Glastonbury, Latitude, Manchester International, International Mersey River and WOMAD festivals, plus sessions from bands and artists including The Bluetones, RIDE, Hyde and Beast, Everything Everything, Jah Wobble, Outfit, Ezra Furman, Young Fathers, Flavia Coehlo, The Vaccines, Howling, Leon Bridges and Songhoy Blues.
Notes to Editors
Meltdown Festival – Monday 17 to Sunday 30 August, 2015: Southbank Centre's annual Meltdown festival has been running since 1993 and each year invites a different cultural figure to act as director of the event and pick the performers of their choosing.