Bringing down the house? David Byrne's "American Utopia" tour coming to the Broadway stage this fall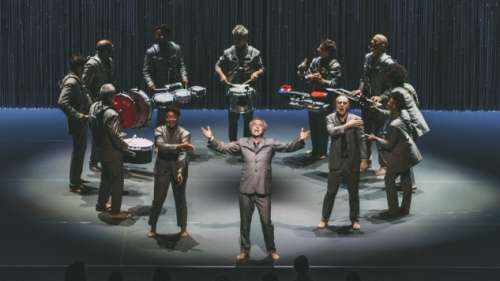 Photo Credit: Catalina Kulczar
Ex-Talking Heads frontman David Byrne is adapting the theatrical concert performance he developed for his tour promoting his 2018 solo album, American Utopia, for the Broadway stage. The show will run from October 4 through January 19, 2020, at the intimate Hudson Theatre in New York City, with an official opening performance set for October 20.
A pre-Broadway engagement will be held at the Emerson Colonial Theatre in Boston from September 11 through September 28.
As with the concerts on Byrne's American Utopia tour, the stage show will feature the influential singer/songwriter playing material from his latest album, as well as select Talking Heads tunes, accompanied by an ensemble of percussionists and other musicians who are able to move freely about a sparse stage.
Byrne has penned an essay explaining that he decided to take the American Utopia show to Broadway after multiple people suggested it.
"It was an exciting challenge," he notes. "I realized a Broadway setting would likely be a different audience than the concert crowds I was used to. The Broadway crowd has slightly different expectations. There might even be audience members who don't know me or my music -- which for me is exciting."
He adds, "I thought to myself that this new context might be good -- it might actually help to bring out the narrative arc a little bit more, to make it just a little more explicit."
Alex Timbers, with whom Byrne worked on the previous stage musicals Here Lies Love and Joan of Arc: Into the Fire, is serving as a production consultant on American Utopia.
You can buy tickets for the New York City and Boston performances now by visiting, respectively, TheHudsonBroadway.com and EmersonColonialTheatre.com.